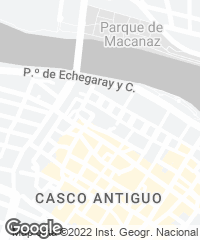 The brief of the project for the courthouse of Zaragoza is the most extensive and detailed of all those published by Alejandro de la Sota. In it the author accurately describes exactly how the program is organized, with segregated circulations provided for judges, inmates, the police and the public. "In the final analysis, it seems that each element is situated where most convenient for the performance of its functions." Such an analytical and functionalist approach reduces the project to an intelligent diagram that does not reveal its underlying structure. But without the mediation of a pertinent formal language, the architect's indifference to figurative form as a given and his belief in technology and in the functional scheme as the germinal fiber of the work are not enough to guarantee the degree of mastery attained in his previous projects.
A series of blocks joined in the middle by a common lobby and clustered together behind the rear facade of the old courthouse constitute the gist of the intervention. 
As the old building maintains is representative funcion, the new intervention need not offer references to the historic surroundings. 
The new law courts are inserted into the irregular weft of Zaragoza's town center, right behind the old porticoed building. Over a basement that takes up the full area of the lot rise three compact and identically molded volumes forming a landscaped interior space. The foyer situated at basement level neatly connects old to new by way of a glazed gallery and provides access, through two vertical communication shafts, to the three blocks. Regardless of their respective positions, these fit together with the cold logic of the radical scheme.
As in previous works of Sota the enclosure consists of light lacquered steel sheet panels. But the pieces are larger this time around, perhaps as large as they can get. This gives the building an enormous scale that contrasts sharply with the domestic architecture surrounding it. The panels are more than six meters long. Without the vibrant lines of tension present especially at León, the facades become a mere set of symmetrical planes arranged with little regard for how they relate to one another and to the urban context at large.
Sota's works frequently arrived at a subtle equilibrium between subterranean and aerial. At Zaragoza this line of flotation is provided by the stone pavement that ingeniously ventures up the facades to form an opaque base concealing the interior garden. In this way the pleasant, friendly atmosphere of the courthouse interior gives way to hostility in the exterior.
In this final work of his Alejandro de la Sota repeated previous experiences without taking thorough account of differentiating circumstances.
Cliente Client
Ministerio de Justicia.
Arquitecto Architect
Alejandro de la Sota.
Colaboradores Collaborators
Juan Capella (arquitecto / architect); Carlos Cea (aparejador / technical architect).
Contratista Contractor
Interurbana.
Fotos Photos
Juan de la Sota.