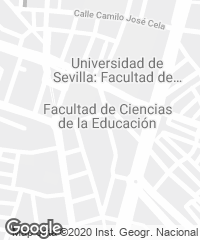 Mies passed away in Chicago in August 1969. In tribute to the master and going against the tide, Sota published 'The Grand and Honorable Orphanhood', exposing his personal decalogue of architectural renunciations. A year later he failed the competitive examination for a chair in the Project Design department of Madrid's school. The architect dissociated himself from the world of teaching and publications and took cover, alone and intransigent, behind a stance that went hand in hand with the progressive stripping of his formal vocabulary, an attitude he defended to the end.
The Science Faculty of Seville was the object of a competition organized in 1972 by the Education Ministry. The final project was drawn up almost in the same time that the building went up, since both design and execution deadlines were tight. Such urgency prevented the architect from applying the investigations he had initiated in 1970 with the Bankunión competition. Thus the building is better understood if grouped with works dated before that year.
The faculty is situated on adverse terrain. A symmetrical scheme is arranged around a longitudinal courtyard which serves to brighten up the building. As this unpassable space hierarchizes functions and segregates routes, it plays a leading role in the space and life of the school. The exterior is hermetic at the rear. The brick facades emphasize the building's centripetal character, and are broken by narrow bands whose screens give no hint of the interior layout.
What generates the design process is the materialization of a grid which is automatically transferred to the work. A geometry of exact shapes identifies the steel structure with the spatial organization of the complex. The grid establishes a simple, flexible order that helps to situate the loadbearing frame, but more importantly, it was a starting decision which summed up the bulk of the project and thus made it possible to postpone or avoid other decisions. Nevertheless, the neat abstraction of Mies' grids is perverted here and this deviation is emphasized by the constant and brutal presence of the gilded vein structure outlined over the white surfaces and appearing in the frame, the stairs and the banister, giving the building a powerful and efficient industrial character.
For this work which has merits as both construction and architecture Sota was awarded the 1974 National Architecture Prize... [+]