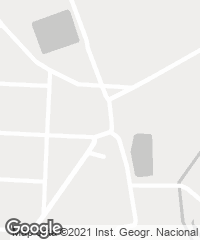 The 18th century farmhouse was the only building in a landscape of vineyards and olive groves, and it had to be adapted to accommodate a center devoted to wine culture. The farmhouse is thus extended with a new volume with a four-point star shape. The design of the new areas involved mixing the rural architecture of the farmhouse and the industrial character of the winery with the extension, which aims to give the whole complex a unitary image.
The estate is organized around the courtyard, traditionally the center of activity in the farmhouse, transformed by the star-shaped canopy that arranges the new circulations without touching the old whitewashed walls. The space is organized in four areas with variable heights where the different pieces are independently articulated under the continuous roof that has a small patio with a pentagonal fountain in the middle. In this way the new spaces are inserted in the heart of the existing building, and the light metallic structure becomes a gathering area and center of the winery's activity, connecting the buildings with the open spaces and extending its arms towards the entrance, the new rooms, and towards a new hotel and extension of the winery that will be built in the future. 
Arquitectos Architects
Ángela García de Paredes, Ignacio G. Pedrosa
Colaboradores Collaborators
Álvaro Rábano (proyecto y dirección obra project and construction manager), Álvaro Oliver, Andrea Franconetti
Estructura Structure
Alfonso G. Gaite GOGAITE S.L.
Propietario Owner
Bodegas Real
Constructora Contractor
BANASA Barroso Nava S.A.;
Jefe de obra Construction manager
Teresa Díaz Bellostas
Estructura metálica Metallic structure
AUGESCON S.L.
Superficie construida Floor area
2.535 m²
Fotos Photos
Luis Asín, Roland Halbe