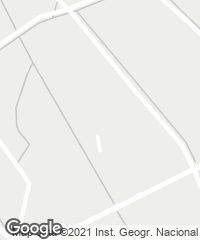 In the project designed to protect the archaeological site of La Olmeda, ancient times coexist with modernity and architecture is set in contrast with the landscape. These concepts wish to make visitors aware of the unitary character that these fragments of the past had. The different elements of the program – the villa and the thermae with their mosaics, the museum and a research center for archaeologists – are protected by a perforated metallic skin of steel and polycarbonate that wraps the complex and nuances the entrance of natural light.
To safely display the collection of mosaics of an old Roman villa of the 4th century, the archaeological site has been protected with a metallic roof and surrounded by a perforated steel sheet. 
The archaeological premises are organized in three pieces, all gathered under a colossal continuous roof that protects the whole area and that rests on metal columns delimiting a courtyard. The segmental domes of the roof have been built with a rhomboidal structural framework made of steel tubes, clad on the outside with aluminum sheet, which show a coffered finish in the interior. The extensive occupation of the site and the need to avoid altering it during the construction work, in addition to its location in a rural environment, recommended the use of a prefabricated modular system. The dimensions of the rhomboidal elements ease their transportation and facilitate the on-site assembly of full arches that, with twenty-five meter spans, were raised to their final position and fixed with screws.
From the roof hang a series of steel meshes that restore the position of the villa's original walls, favoring the views of the mosaics in differentiated ambits and showing the villa's original layout. A wooden footbridge, slightly elevated over the mosaics, connects all the halls around the central courtyard, guiding visitors through the thermae and leading them through the spaces that make up the functional program of the museum.
The spaces paved with tiles are illuminated at specific points, framing the mosaics. Visitors are presented with a complex organism which gradually reveals the excavated areas and the spaces of the villa, trying to avoid offering a one-glance view of the whole complex. The perforated metallic enclosure reduces the density of the pattern as it goes up from the plinth to the roof, blending with the trees around it. Separated from the structure, the skin emphasizes the light character of the building, thus helping to meld it into its natural surroundings.
Cliente Client
Diputación de Palencia
Arquitectos Architects
Ángela García de Paredes, Ignacio Pedrosa
Colaboradores Collaborators
Clemens Eichner, Álvaro Rábano, Eva Urquijo, Andrea Franconetti, Eva M. Neila; Luis Calvo (aparejador quantity surveyor)
Constructor Constructor
UTE La Olmeda
Consultores Consultants
GOGAITE S.L. (estructura structural engineer); Nieves Plaza (instalaciones electrical and mechanical engineer)
Fotos Photos
Roland Halbe