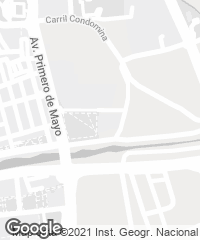 The new Congress Center rounds off the cultural program of the Auditorium of Murcia, whose bold triangular form did not admit extensions. However, the mild climate as well as the character of the site, a green area on the city outskirts, let both buildings achieve a virtual connection through a garden, a gathering space.
The building consists of a series of warehouses linked by courtyards. The open-plan halls are connected through the courtyards, interweaving open and closed spaces. Inside, orientation is achieved by the permanent vision of the outside, the auditorium and the landscape. In this way the rooms succeed each other in an intimate bright space among courtyards whose size keeps direct sunlight controlled and a constant transparency. The rooms are connected to one another by one large interior space that the courtyards extend. Though it is formally independent from the auditorium, the congress center echoes it with the golden stone of the exposed concrete volumes of the warehouses. Inside, halls, rooms, and galleries are treated as a unit in which concrete, wood panels, and metal ceilings define an almost industrial character, building up a space that achieves the pursued austerity.
Arquitectos Architects
Ángela García de Paredes, Ignacio G. Pedrosa
Colaboradores Collaborators
Manuel García de Paredes, Nuria Ruiz. Obra: Silvia Colmenares, Salvador Moreno (proyecto project)
Dirección de ejecución Execution manager
Isidoro Agulló
Estructura Structure
Francisco Ruiz Gijón
Instalaciones Mechanical engineering
EPM S.L.
Propietario Owner
Comunidad Autónoma de Murcia. Consejería de Turismo y Cultura de la Región de Murcia
Contrata Contractor
Villegas S.L. Urdema S.A. UTE
Superficie construida Floor area
6.500 m²
Presupuesto Budget
6.316.000 euros
Fotos Photos
Luis Asín, David Frutos