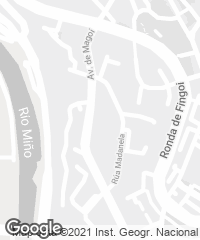 Winner in a competition held in the year 2008, the project for the new auditorium of Lugo, a representative building south of the historic center of the city and very close to the River Miño, is set forth as an urban facade, a mirador onto Magoi avenue, establishing an interplay of volumes with several spaces that are connected to one another and to the exterior, and surrounded by a landscaped park.
The brief asked for the construction of two auditoriums – a main one and an assembly hall –, a parking lot with 160 spaces, several multipurpose halls, cafeteria, garden, terrace, and services.
Organized in an elongated volume between two levels – the urban level of the avenue and the higher one of the gardens, with a seven meter drop –, the auditorium is characterized by a strong topographic condition, just like the Roman wall surrounding the historic quarter of Lugo. This condition permits using the site's features to the advantage of the project and allows reducing the height of the scenic tower, configuring a continuous urban profile towards the city and placing an elevated garden of access facing East, a green and silent anteroom of the building.
The auditorium stretches along a straight line adapting to the topography of the hill, which protects the concert halls from the noise of the street, to which it offers a glass facade expressing the institution's openness. 
The interior is organized along a functional backbone between the two transparent facades. The two concert halls – with capacity for 900 and for 300 spectators – rest on the terrain bringing the garden views and natural light all the way into the upper seating area. The garden gives access to the auditoriums, and the avenue leads to the exhibition gallery. The lobby is a tall, continuous space that connects the different itineraries through the building and articulates the voids of varying heights, creating gathering spaces.
The different heights of the volumes give the building a crenelated image that emphasizes the buildings topographic character, and also its connection with the wall that surrounds the historic center of the city.  
The aluminum roof folds to wrap the different spaces, each one with the necessary height, and traces a broken ridge line that prevents a monolithic image. Like a gallery, sometimes translucid and sometimes transparent, the silkscreen printed glass with different degrees of opacity gives the building a bright character and wraps up its most urban facade, representing its institutional role as a space open to citizens. The building offers a flat and continuous image towards the city, with different heights, and a fragmented small-scale image towards the garden, where it reveals an uneven silhouette that barely exceeds the tree tops.
Carved into the hill, the two auditoriums – for  900 and 300 spectators –  bring the landscape and sunlight inside, minimizing the impact of the volumes in the rear garden, where one entrance is located.
Cliente Client
Xunta de Galicia
Colaboradores Collaborators
Álvaro Rábano, Clemens Eichner, Lucía Guadalajara, Ángel Camacho, Ingrid Campo, Blanca Leal, Roberto Lebrero (proyecto project); Ana Ortiz Conlledo, Ana González de Herrero Otero, Rubén Ramos Loureiro, Alejandro Romero Romero (dirección de obra site supervision); Luis Calvo (mediciones y presupuesto measurements and budget) Vicente Quiroga Rodríguez (dirección de ejecución execution manager)
Consultores Consultants
GOGAITE S.L. + E3 Arquitectos, Francisco Carballo y Carolo Losada (estructura structure); JG Ingenieros Consultores de Proyectos S.A.+ Obradoiro Enxeñeiros S.L. (instalaciones mechanical engineering); Vicente Mestre, Vicente Menéndez, CGM Acústica y Telecomunicaciones S.L. (acústica acoustics)
Contratista Contractor
UTE FCC Construcción S.A., Vilamiño S.A.; Guardian (vidrios fachada glass facade)
Superficie construida Floor area
14.647 m²
Presupuesto Budget
17.685.908 €