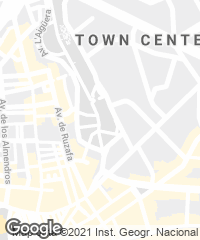 The end of L'Aigüera park, where an old river-bed meets the city of the fifties, was taken up until recently by an unfinished square. The Town Council decided to build its new headquarters on this site, maintaining the two-story public parking on the lower level. The project also involved a redefinition of the square, and establishing a connection between the parking area and the new Town Hall.
The need to complete the square – linked to the institutional use of the volume – and to define it at once as an area of transit, led to a building-bridge solution, that challenges the skyscrapers of the surroundings with a large horizontal prism. The program is distributed vertically in the two essential component parts of the bridge – the supports and the board – preserving both the essence of gate of entrance to the city and of void within the urban layout that this site, with its old river-bed, used to have.
Surrounded by a forest of towers, amongst which the tallest of Spain, the new Town Hall recovers the sea's horizontality with a building-bridge that, rising over an old river-bed, creates a square at its feet.
Upon the large platform and resting on the slight slope of the river bank rise two low volumes of stone that house the areas of access, representation and citizen services. Both materialize – spanning the difference in level –their condition of support by way of concrete in situ of white cement and regional arid aggregates, as well as in the two bands of narrow, vertical windows on the facades which look onto the square.

Both volumes take on the weight of a box beam that with its almost one hundred meters crosses the square transversally, linking the premises of both sides. In their interior, the offices and departments are distributed in three floors of open-plan offices divided up by movable elements. Unlike the lower prisms, the horizontal volume reveals its prefabricated nature showing on facade the large steel trusses that support it. All of the elements – prestressed concrete slab, walls and claddings – have been assembled during construction. Aluminum panels enwrap the large beam on its opaque facades, and are combined with continuous glass on the larger facades, north and south. On this last aspect, a second skin of glass slats – silk screen printed with the names of the Benidorm citizens – make it possible to control the temperature inside the building according to the wind and the rain, thanks to sensors placed on the roof. Ten courtyards, which are situated in different places depending on the floor, offer the employees a small replica of the exterior courtyard to which they look.
Cliente Client
Ayuntamiento de Benidorm
Arquitectos Architects
José Luis Camarasa (Ayuntamiento Town Hall); AMP: Juan Añón, Rafael Martínez, Gemma Martí, Ramón Calvo
Colaboradores Collaborators
Rafael Landete, Alejandra Mrdja, José Tormo, Carlos Ortega, Bárbara Pons; Rafael Machancoses, Miguel Navarro (aparejadores quantity surveyors)
Consultores Consultants
CYPE, Florentino Regalado (estructura structure); Antonio Carratalá (ingeniería engineering)
Contratista Contractor
UTE Dragados-ECISA
Fotos Photos
Duccio Malagamba