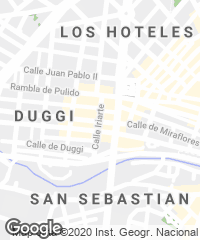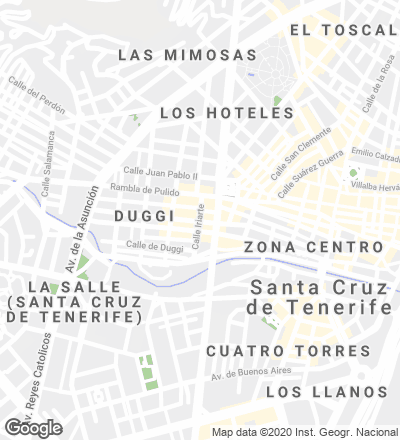 Forming part of the more dense and uniform fabric of the city – a few meters from the Rambla de Pulido and Plaza Weyler– a corner plot belonging to one of the typical rectangular blocks has now been taken up by a building of apartments and shops. Facing the landscaped square and exposed to sun coming in from the west, the principal challenge of the project has been to reconcile the views toward the public space – where magnificent laurel trees grow –with the passive protection from the heat.
With barely ninety square meters of surface available, the building takes on its mediating role acting as a hinge between the two adjoining sides of the block with a unitary volume. Its enclosure only displays the functional stratification characteristic of the city's 19th century extension: commercial areas on the ground floor and residential uses on the upper floors, with one last floor which is set back as a sort of crowning of the building. Two parking spots flank the commercial area at street level with an intermediate floor which occupies the corner next to the proposed access to the stairwell located at the end of the plot. This plinth supports both floors with a two-bedroom apartment each and two upper stories grouped in a three-bedroom duplex to which the terrace of the attic is assigned. A staircase – of a private character once it reaches the duplex apartments on the upper floors – and a small hydraulic elevator integrate the nucleus of vertical communication which is illuminated and ventilated through a skylight on the roof. The scarcely built background has favored the circulation of air in all the rooms directly from the facade, leaving only the bathrooms to the interior.
A stony enclosure – as a sort of shell of dry cracked lava – protects the interior from the sun that comes in from the west and manages to obtain the pursued formal unity. With the shape of screens of irregular contour superposed as scales, large concrete slabs finished in stone leave vertical cracks in between which provide the dwellings with views onto the neighboring square. Mulberry tree wood frames are installed upon these cracks as glass boxes whose interior houses the mechanisms of light control. In the building plinth, the walls of exposed reinforced concrete which constitute the facades of the two parking spots of the garage have been dyed in different colors composing a scheme of vertical bands that follow the structure of the formwork planking.
Cliente Client
Comunidad de Bienes Daberi
Arquitectos Architects
Felipe Artengo, Fernando Martín Menis, José María Rodríguez-Pastrana
Colaboradores Collaborators
Rafael Hernández, Andrés Pedreño (aparejadores quantity surveyors)
Contratista Contractor
Luis Tarife
Fotos Photos
José Manuel Oller