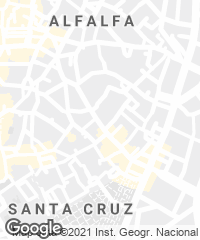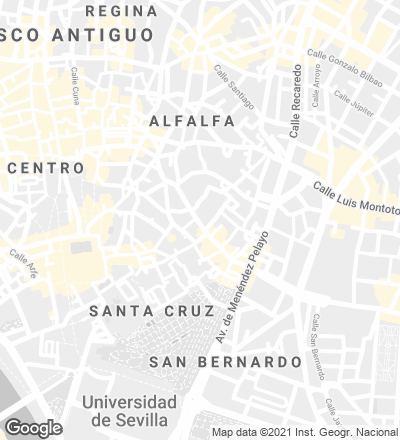 Is Seville's culture office from the same period as your intervention in the Candelaria fortress of Cádiz?
—It came before the provincial government seat of Seville, and shortly after the fortress. The idea was to join two houses, a large one and a smaller one, which face two different streets. At the rear of the larger house was a construction in very bad shape, which is where the new annex went up. The larger house is organized along a central axis that shifts to tie up with the smaller one. It is at this point that it connects with the new construction. Both houses were given a restoration job and the rear building, accessible only from one end of the courtyard, always appears foreshortened. Thus the use of vertical elements on the facade, like a thick curtain wall... Today the courtyard is full of plants.
—The annex is almost like a backdrop.
—We had an idea – one we perhaps regret not having carried out – for the vertical mullions. The plan was to make some crevices that would give rise to a figure, a climbing plant, and the nice thing was that it was a figure that would only be recognizable from a lateral position.
—Like kinetic art?
—More like those figures that can only be discerned from a certain point...
—An anamorphosis?
—An anamorphosis... That would have been good. As for the restored zones, we simply did the right thing: a work of fine carpentry that highlights the arch, etc. It's like an academy except that when you leave, everything ends up much more complicated. —If we had been more naive...
—What happens in projects of this kind, too, is that you have to focus your interest somewhere, and our focus of interest was the annex. With the rest, it sufficed for us to do the correct thing.
—For every bull its passes, and sometimes all it takes is a dressing job.
—A dressing job? The interesting thing here is the shift on plan in a building so axial that in the end it almost transforms to strike a picturesque agreement uniting the houses, and thereon connect and accommodate the new courtyard and new construction.
—It is a tangential facade that relates in a way to the treatment given the fortress...
—Yes, now that you've mentioned it, yes, this work was thought out much like Candelaria, with its cornice, the dominant white...
Conversation of the authors with Luis Moreno Mansilla and Emilio Tuñón.
[+]
Cliente Client
Consejería de Hacienda, Junta de Andalucía
Arquitectos Architects
Antonio Cruz & Antonio Ortiz
Colaboradores Collaborators
Miguel Ángel Maese (arquitecto architect); Enrique Domínguez (aparejador quantity surveyor)
Contratistas Contractors
Construcciones Hernando, Goypesa
Fotos Photos
Duccio Malagamba