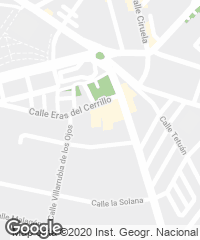 In the southern area of Ciudad Real, beyond the ring roads that delimit the urban center, rises the new Courthouse, an official building in an environment that lacks readily recognizable elements with the exception of the Plaza del Trillo and the Ortega y Gasset park.  
The main facade is set back to generate a large public space that lets the building assert its relevant function, also drawing attention towards the columns that mark the area of entry to the building.
The U-shape structure follows two of the axes of the plot's alignment, whereas the roof plan extends following a triangular shape and adapting to the route of Eras del Cerrillo street, right up to the point where the two geometries meet. This triangle accommodates A tall space that frames the entrance, performing as a monumental portico of access and furthermore extending the sidewalk before it, thereby giving the building the image and representative character that an institutional piece like this one requires.
The distribution of the program between the five floors that compose the structure varies gradually as the building rises, depending on the degree of privacy needed and trying to keep the more public areas in the lower levels. The ground floor contains three of the accesses, the lobby and the halls were hearings and weddings are held. The first floor contains the collective spaces, the deanery and the district attorney's office.
The upper floors accommodate the courts, using the difference in height to generate a garden on the roof of the first floor. The interior distribution is based on two elongated pieces that are separated by a lobby and contain the main part of the program. Acting as a distribution element, this lobby constitutes a void that traverses all the levels with a continuous glass enclosure that lets natural light in and prompts an interplay between the interior and exterior views.
The glass enclosure is the predominant feature, dressing the building with a veil of transparency that wishes to symbolize this essential quality of justice. A curtain wall wraps the most introverted spaces – the interior courtyard that configures the U –, as well as the main front of access. Over the entry portico glass continues in the form of panels suspended from the facade.
The side walls are rounded off with conventional windows partially concealed behind a perforated sheet. This metal skin is detached from the facade, and proper maintenance is possible thanks to intermediate corridors that are supported by the same structure that fixes the metal latticework to the building.
Cliente Client
Ministerio de Justicia
Arquitecto Architect
Guillermo Vázquez Consuegra
Colaboradores Collaborators
Joaquín Amaya, Pedro Caro, Juan Brunet, Stefan Lemmerzhal, Simone Solinas (proyecto project); Stefan Häring, Eduardo Melero (dirección de obra building supervision); Marcos Vázquez Consuegra, Diego Palomares, Juan Manuel Plaza (aparejadores quantity surveyors); Susana Solano, Cristina García Rodero (artistas artists)
Consultores Consultants
Insur-JG (instalaciones mechanical engineering)
Contratista Contractor
Alcuba
Fotos Photos
Duccio Malagamba