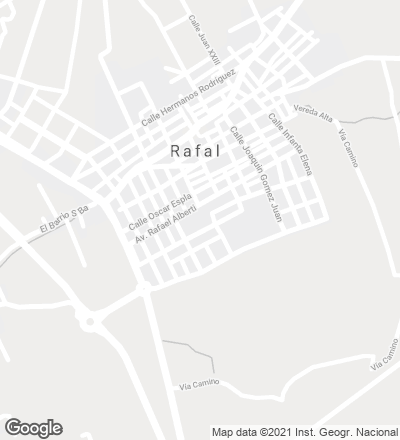 Located in Rafal, a municipality of 4,000 inhabitants south of the province of Alicante, some 50 kilometers from the capital, the high school goes up in a plot of less than 7,000 square meters, almost half of the standard established by the community of Valencia for a center of these dimensions – formed by twelve classrooms for students from 12 to 16 years of age and four for students from 16 to 18 years of age. Due to the reduced size of the plot the project chooses to multiply the recess areas and distribute them on different floors, almost reaching the standard surface of free space per student, without having to increase the number of floors (limited to ground floor plus two).
The free surface on ground floor is divided into three large sports patios – central track, covered court and trinquet (a court for the traditional Valencian ball game) – and in many small courtyards located between the different classrooms. These courtyards break up the building into different sections, generating a comb-shaped distribution towards the interior and sparking a contrast with the bold and continuous appearance the center conveys when seen from the exterior. 

Aside from the courtyards on ground floor, a series of open spaces are distributed throughout the rest of the floors. These spaces look directly towards the large central void, so there is direct visual connection between all of them. This comb-shaped interior configuration ensures that every classroom has three facades, which considerably improves their natural illumination and ventilation, but that also multiplies the surface area of the outer facades. This multiplication demands an extreme economy of means; the project thus chooses single-sheet but thick facades, formed by a cheap material like concrete, which serves as structure, facade, partition, ceiling... Furthermore, this material provides a perfect thermal and acoustic insulation and it is very resistant, thus reducing the maintenance costs of the center.
Externally the building is more compact, lining up completely with the perimeter of the plot and leaving the largest free surface towards the interior. This built perimeter protects and isolates the free interior spaces of the immediate context, formed by semi-detached houses, some of them located less than five meters from the center's facades. This proximity prompts the high school to become introverted, flowing onto its own public space, and organizing the building so that it completely surrounds the interior free spaces.

Cliente Client
Ciegsa
Arquitecto Architect
Francisco Leiva (director director); María Gadea, Martín López Robles (dirección de obra site supervision)
Colaboradores Collaborators
Julio Pérez Gegúndez (aparejador quantity surveyor); Marta García Chico (paisajismo landscape); María Gadea, Martín López Robles, Marta García Chico, Marta Martínez Osma, José Vicente Lillo, José Luis Campos Rosique, Katerina Zemanova, Marian Almansa, Ignacio Evangelisti
Consultores Consultants
Juan Jesús Gutiérrez (instalaciones mechanical engineering); TYPSA (estructura structure)
Contratista Contractor
ASIGNIA
Fotos Photos
Duccio Malagamba