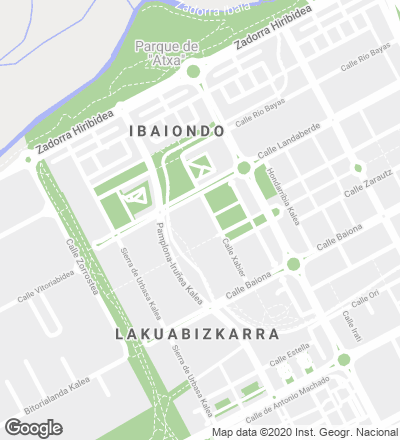 Aktur Lakua– a macrosector on the periphery of Vitoria which was conceived at the end of the seventies – is the yet undefined area chosen to build 168 social houses. Its streets are barely supplied with the basic urban installations and the facilities and uses are still under construction, so the grid of small blocks planned constitutes the only reference of the project. On the northern limit of this neighborhood which is still in the process of becoming a city, a plot of more than one hectare is the physical support of an intervention that aims at encouraging the relationship among neighbors by means of the plot distribution.
Four linear blocks in groups of two define at the center a common tree-lined space. A courtyard goes over each one of the two resulting buildings, allowing to reduce the number of circulation cores.
Four linear blocks are thereby grouped two by two to define a common space in-between covered by three rows of trees. A pedestrian path crosses this open block, facilitating the connection of the block courtyard with the street. The theme of the void between the buildings to serve as a place for interaction appears again on a smaller scale in each one of the two buildings, that are structured along courtyards in all their extension. These linear voids are interrupted only by the core of elevators and stairs, so becoming a meeting point. The resulting typology of H-shaped buildings reduces to ten the number of circulation cores needed, allowing at once the double orientation of all the dwellings. A same organization adjusts to each one of the four blocks that form the unit, breaking down in a narrow grid that groups kitchen, clotheslines and bathrooms along the courtyards and another deeper one open to the exterior in which the bedrooms and living rooms follow one another. To ensure an appropriate circulation of air in the courtyards – which are covered by a glass roof – their ends have been left open and the buildings themselves have been perforated with two and three story voids that reconcile the domestic scale of the house and the urban presence of the block.

The strict order of the apartments is displayed on the rigorous facades modulated from the cellulose-cement panels which clad the buildings forming a post-ventilated facade. The reduced number of communication cores has allowed to cut down costs which in turn has made it possible to enhance the quality of the finishes, such as the wooden window frames, which are not very usual within the contextof social housing. In the interior, a continuous paving beneath the plasterboard partitions allows the users to alter the distribution without large construction works.

Cliente Client
Visesa, Vivienda y Suelo de Euskadi
Arquitectos Architects
Francisco Mangado; Roberto Ercilla, Miguel Ángel Campo (dirección obra site supervision)
Colaboradores Consultants
A. Aizpuru (coordinación obra coordination); J. Valdivieso, J. García (aparejadores quantity surveyors); E. Martín (estructura structure)
Fotos Photos
César San Millán