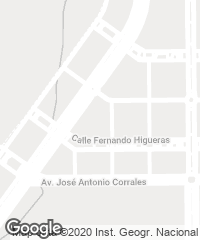 Winner of the competition held in 2009 for the construction of 177 social housing units in Valdebebas – a new residential area in the northeast of Madrid –, the project is based on different principles.
In relation to the public space, it tries to establish a relationship between the gathering spaces inside the residential development and the activity outside the urban block. The apartments are organized in such a away that they leave towards the southern side – an office area – a social space to be occupied by cafés, restaurants, etc. This becomes a representative and vital space for different uses, an urban area with a great economic potential.
The predominant orientations are east, west, and south. The apartments have Venetian blinds to prevent direct sunning in the summer, but making the most of the sunrays during the winter. The position of the buildings ensures that the interior of the plot has adequate natural light. The efficiency in the organization and economy of means are key in the choice of types. In this way, the idea of minimizing the vertical communication cores, or the concentration of the installations, making it possible to move and transform the spaces freely in the future.
The position of the buildings ensures  that the whole plot is sunlit; Venetian blinds protect the interior spaces from solar radiation, while making the most of it during  the winter months.
The apartments are accessed from the interior of the landscaped plot, so at ground level there are large paths that, aside from ensuring visual permeability between the plot's interior and the streets, configure 'doors' of access to the interior to, later, access each block. Because the blocks don't need to be accessed from the exterior, the free-flowing ground level favors adaptation to a variety of uses in the future. Communal facilities – swimming pool, dressing rooms... – round off the space inside the block.
The compositive and constructive aspects are interrelated: the clear organization of the floor plans makes it possible to use prefabricated systems, at least in the structure. Likewise, the repetition of elements means that they can be mass produced in a workshop, at a reduced price and with a high quality. All windows are the same, large and generous to let sunlight in, and this repetitive system also facilitates the use of high quality Venetian blinds and materials.
As for the image of the building, its privileged situation in relation to the main access to Valdebebas advised to look for the added value of giving the building a strong architectural profile characterizing the building as something special.
Arquitectos Architects
Francisco Mangado / Julio Clúa
Colaboradores Collaborators
Capilla y Vallejo Arquitectos (asociados associates).
Idoia Alonso Barberena, Alejandra Muelas, Sonia Alves (arquitectura architecture); Jaime Clúa - Ingeniero (ingeniería estructuras structural engineering); Ingenieros JG S.A. (ingeniería instalaciones mechanical engineering); Fernando Pahissa (aparejador quantity surveyor)
Contratista Contractor
Arpada
Superficie construida Floor area
34.930 m²
Presupuesto Budget
15.776.826 euros
Fotos Photos
Roland Halbe