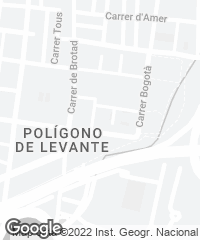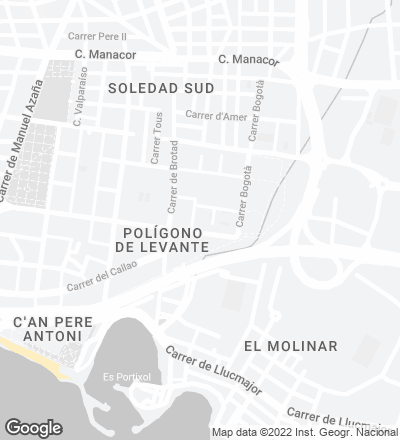 The building is in the Nou Llevant-Fachada Marítima district by the Congress Center. The urban transformation of this area, according to the project by Joan Busquets, sought to address the lack of affordable housing in Palma. Paradoxically, its good location, by Portixol beach, and the legal and economic ups and downs (most of the plots became available after the last financial crisis) have made it difficult to achieve that social objective, as well as to develop a more unitary architectural intervention, taking into account the context of the island and the city, and that could be applicable to all the units.
The layout of the plot, a square of 58 meters on the side, is structured by Busquet's own plan, which avoids an elevated facade on the north-south front – towards the sea –, and concentrates the tallest building along the east-west. The east and west volumes, of seven floors, are thus interlocked with the north and south ones, only two stories high. This arrangement is appropriate bearing in mind the dominant winds and sunning, and permits great typological and formal variety.
The logic derived from the urban plan and the will to establish a dialogue with the local construction inspire a solution that finds its main appeal in simplicity. A volumetric clarity that avoids superfluous facade components; the use of simple materials like the textured rendering that is so common in the island; and the use of traditional systems for sunshading and ventilation are the only resources in a proposal that is focussed on directing the scarce means towards the quality of the building elements rather than to their quantity.
The central space occupies a prominent place, and gives access to all the apartments. This small interior square, reached from a single access point on the south facade, is a space for gathering and play that guarantees the smoothest transition between public and private uses. For their part, the run-through terraces create the unitary image required by the formal objectives. A continuous lattice, painted in a color that is a synthesis of the blue and green of the island, protects the glass of the interior facades from sunlight. The rooftops, green and walkable, complete the functional complex. In constructive terms, the intervention has been guided by simplicity in the details and materials and by their arrangement according to the strictest functional and maintenance logic. An example of this is the galvanized sheet plinth that runs along the perimeter, and that keeps the rendering from touching the ground.
Cliente Client
Metrovacesa Suelo y Promoción
Arquitecto Architect
Francisco Mangado
Colaboradores Collaborators
Francisco Mangado (project manager); Sergio Helguera, María Aragoneses, Leticia Rosillo, Gian Marco Prisco
Consultores Consultants
FS Estructuras (ingeniería estructural structural engineering); Naven Ingenieros (instalaciones mechanical engineering); Luis Rivas Solanas (arquitecto técnico quantity surveyor)
Contratista Contractor
Construye Capital
Superficie Construction area
20.283m²
Presupuesto Budget
13.802.130€
Fotos Photos
Juan Rodríguez