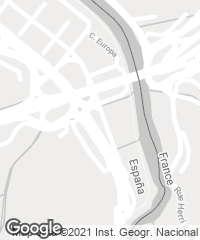 The road hotel inexorably falls under the emergency sort of architecture that all national highways provide on the way, halfway between local color and the Venturian experiment, but the new motel in Irún's Integrated Transport Center resists this stereotype. It is a passive spectator of the heavy traffic of trucks commuting between the Iberian peninsula and the rest of Europe. Large parking lots surround the parcel in question, accommodating the 5,000 vehicles passing daily through this point of the Spanish-French border. Intended as the first of a chain of hotels, the new building will be repeated in similar sites throughout Spain.
The clear and repeatable image of this roadside hotel relies on a modular framework of laminated wood that sets a regular pace on the translucent glass panes and opaque cellulose-cement panels of the enclosure.
The rectangle that marked the buildable area led to conceiving the project as a prism to be hollowed out. Two volumes are extracted from the upper floors to illuminate the stairwell and the small pool at the end of the corridor lining the rooms. The peaceful image that the traveler will come upon on this side of the road must be attributed to a framework of laminated wood that envelopes the building at regular intervals. The modular geometry of this framework determines the facade openings, as well as the panels of translucent glass that close the circulation elements. Because of the milky tone of the cellulose-cement pieces that form the opaque surfaces, the building still comes across as a continuous volume, and they are constructed, moreover, as a postventilation system that prevents the onset of cold bridging.
At ground level, the hotel takes up all the available area, creating a continuous relationship between the lobby, the reception area, the cafeteria and the restaurant. A total of fifty rooms are offered on the two upper stories, and are all designed in such a way that counters the anonymous, impersonal atmosphere normally associated with roadway establishments of this kind. The orange hue of the carpet as well as the birch plywood of the furniture make for a warm ambience, dispensing with unnecessary ostentation. Birchwood was also used for the shutters, which are fastened on the inside of the windows so that light can be regulated without occasioning the noise and air circulation problems presented by the splays of traditional blinds. In such a quiet environment, only the black and white photographs that hang on the walls and allude to the transportation theme remind the guest that this is merely a stopover place, no more and no less than a roadside hotel.
Cliente Client
Eurotir Hoteles
Arquitectos Architects
Roberto Ercilla, Miguel Ángel Campo
Colaboradores Collaborators
Javier Valdivieso, José Antonio de la Fuente, Luis María Tobalina (aparejadores quantity surveyors)
Consultor Consultant
Eduardo Martín (estructura structure)
Fotos Photos
César San Millán