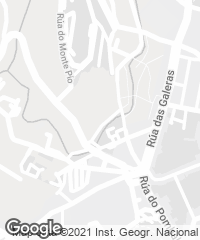 A few minutes from the Plaza del Obradoiro, Santiago de Compostela breaks into an array of scattered constructions which show the agricultural and stockbreeding activities that still go on in its close surroundings. On this borderline, where country meets city, an old dairy house by the river Sarela was chosen as the starting point of a residential development of 21 dwellings that enjoys a rare privilege: to be close to the urban center while enjoying the direct contact with nature.
The project values the gaps and points up the link between architecture and topography. In the center of the intervention, the dairy building (below) houses five triplex units on its base and two apartments under the roof.
A stone wall parallel to the river marks the boundary of the plot and shows the first step of a precipitous topography that is retained in terraces to facilitate its encounter with the riverbanks. To make the most of the permitted built area, the three buildings – whose roofs, structure and order of openings had to be maintained – are completed with two new volumes, giving way to a complex of freestanding pieces that values the interstitital spaces and celebrates the relationship between architecture and topography with a perceptive sequence orchestrated by the trees, the retaining walls and the built volumes. The building of the old dairy becomes the gravity center of the new unit. Five triplex flats take up its base, while two apartments on the top floor enjoy tall ceilings presided by the wood trusses that hold the roof. On both sides of this piece, two new volumes rest on the terrain establishing precise links with their close surroundings. The building located to the east of the plot looks on to the river from a stone wall pierced by large windows. A glazed gallery on the top floor provides a bright living room area to the three bridge-houses thatconnect the main volume with the hillside. The building to the west is set back from the street alignment to open the dwellings to the garden fit out on the garage. A glass and wood band identifies the day areas of each apartment, while a parged wall guarantee privacy in the bedroom areas.

The project underlines the coherence between structure, construction and shape that defined the previous agricultural and stockbreeding installations. The ashlar stone walls that form the plinths of the new constructions add to the masonry walls that delimit the terrain; and the wood and glass fronts of the galleries bring the views of the city and the dim light characteristic of Galicia into the dwellings.[+][+]
Cliente Client
Construcciones Otero Pombo
Arquitectos Architects
Víctor López Cotelo, Juan Manuel Vargas
Colaboradores Collaborators
Ana I. Torres, Jesús Placencia, Isabel Mira, Álvaro Guerrero, Pedro Morales, Juan Pinto (arquitectos architects); José Antonio Valdés, Rafael Pazos (aparejadores quantity surveyors); José Pascual Izquierdo (delineación delineación); Juan Uríbarri Sánchez-Marco (maqueta model)
Consultores Consultants
José María Fernández (estructura structure)
Contratista Contractor
Construcciones Otero Pombo; Aluminios Cortizo (carpintería metálica metalframework)
Fotos Photos
Lluís Casals