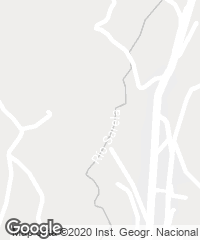 The Fundación Laboral de la Construcción found the most convenient site for the Centro de Referencia Nacional en Materia de Rehabilitación (public research and innovation center in the field of refurbishment) in the old 18th century tannery of Pontepedriña de Arriba. Considering the strong presence of the existing structures and their potential, the project assessed the need to favor the integration of the complex within a compatible whole. The 'place' demands its own order. 

The peripheral construction closing the site, with the typical features of old tanneries, was to house those programs that were more compatible with the building type without requiring substantial alterations. The new structure that completes the permitted buildable area is placed at the center of the complex, by the river that flows in the north-south direction. This new structure, of industrial buildings, is held at both ends by two longitudinal volumes parallel to the river. The combination of warehouses and courtyards gives the spaces transparency and creates outdoor areas for shared activities. The topography demands not interrupting the course of water towards the river, so the construction rises above ground level and, using the slope, the buildings divide their height in two levels on the river side; the upper level for classroom-workshops and the lower one for the communication axis, technical office, and dressing rooms. 
The side facades of the warehouses that appear amid trees over the site wall, with their light U-glass enclosure, maintain the scale and industrial presence, revealing the activity inside the center. The side walls of the buildings, clad in cork sheets, blend subtly with the stone surfaces. The new one-level volume of warehouses accompanies the varied sequence of volumes of the old tannery. This elongated volume is closed along its full length, favoring ventilation, with sliding doors with a double layer of wood boards painted Falun red. Its scale, layout, construction, and color merge new and old.
The new building stretches like a shed until it approaches the old warehouses, without touching them, configuring a plaza-like space. There is another green space around the small woods of the northern end, and the 'hórreo' (granary) that was on the site has been moved here. A bench in the plaza, surrounding three large planters, delimits a space for rest as well as a pedestrian entrance to the classrooms and an access for cars. The outdoor pavement materializes the ties between old and new, unifying the whole complex.
Cliente Client
Fundación Laboral de la Construcción, Consorcio de la Ciudad de Santiago
Arquitectos Architects
Víctor López Cotelo, Ángel Panero Pardo
Colaboradores Collaborators
Isabel Mira Pueo, Adrián Martín Prieto (coordinadores coordinators); Francisco García Toribio, Elena Lucio Bello, Lourdes Pérez Castro
Consultores Consultants
José Antonio Valdés Moreno, Jorge Vázquez Couto (arquitectos técnicos quantity surveyor); José María Fernández-Ingeniero de Caminos, Proyectos de Ingeniería y Arquitectura SL., Manuel Guaita / José A. Lorenzana-PEMADE-USC (estructuras structures); Andrés Figueiras-INOUS (instalaciones mechanical engineering)
Contratista Contractor
Tragsa / Acs / Trycsa / Joscon
Superficie construida Floor area
4.034,68 m²
2.177,38 m² (edificación existente existing building)
1.857,30 m² (nueva edificación new construction)
Presupuesto Budget
3.398.840 €
Fotos Photos
Héctor Fdez. Santos-Díez, Adrián Martín Prieto, Fuco Reyes