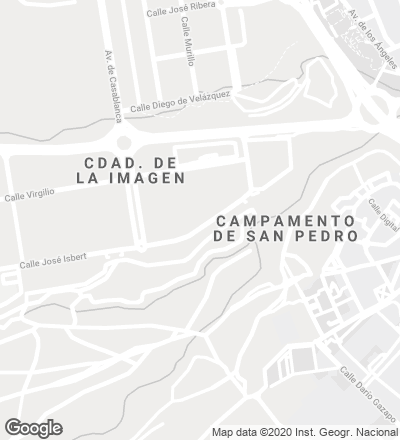 The conservation and Preservation Center has been built with the intention of bringing   together the functions of the Spanish Film Library, scattered in different buildings. The neutral character of the environment – it goes up in the Ciudad de la Imagen, a business campus in the municipality of Pozuelo de Alarcón, west of Madrid; and the complexity of the program – public building, research center and archive –, asked for a project capable of tying the building to the place and articulating and gathering all the functions in tune with the human and urban scale.
The project creates a transition area between the urban print and the interior structure of the building, underscoring the relationship between the volume above grade and the part of the building that is below ground.  
The empty space of the square and the parking on the northern side is filled with an industrial-size volume that adapts its scale to the urban situation, like a large ship docked at port. From the street of access, the building appears distant at first because a plinth dotted with purple bushes endows it with a solemn image. This distance allows organizing a service courtyard that is concealed from the street, and which is used for loading and unloading. Here the green platform becomes a built volume that contains the garage. The corridors of the main building that open up to the street reveal the structure of the research activity, and the arrangement of the columns reflects its almost cloister-like nature. This function stands out with its own facade system, with large windows and ventilation elements. 
A vertical volume prevails over the rest and is carved into the terrain, becoming the most identifiable and representative image. Its scale and dimension address the faraway perception but at its base one can see how the vertical order of the large windows continues underground, and it is possible to understand the important structure built below grade and that requires large functional elements to provide light in the same conditions as in the upper floors.

The design of the building foresees the need to adapt to the advances in conservation techniques. To ensure the thermal stability of the archives, more than half of the program of the building  is below grade. 
In the area closest to the street, where the main access is located, aside from the management and administration spaces it is also possible to perceive the building's large scale. It is here that one can simultaneously see elements and details of very different sizes that are part of the construction and that refer to the urban scale. From this distance the material character of the building can be seen with naturalness and simplicity. This space also invites to experience the articulating and transitional spaces between the urban and architectural realms, there where individuals become involved and aware that they belong to the world, to the place and to themselves.
Arquitecto Architect
Victor López Cotelo
Colaboradores Collaborators
Francisco García Toribio (arquitecto coordinador de la obra architect construction coordinator); Elena Lucio Bello, Rafael Medina Iglesias, Flora López-Cotelo Isabel Mira Pueo (arquitectos ejecución de obra construction architects); Juan Manuel Vargas Funes, Jesús de la Fuente Moreno, Francisco García Toribio, Alvaro Guerrero Aragoneses, Flora López-Cotelo, Rafael Medina Iglesias, Isabel Mira Pueo, Pedro Morales Falmouth, Jesús Placencia Porrero, Ana Torres Solana, Juan Uribarri Sánchez-Marco, Frank Furrer (arquitectos proyecto project architects); Jose Antonio Valdés Moreno (aparejador quantity surveyor)
Consultores Consultants
Proyectos de Ingeniería y Arquitectura S.L (estructura structure); J&G Asociados S.A.(instalaciones mechanical engineering)
Fotos Photos
Lluís Casals