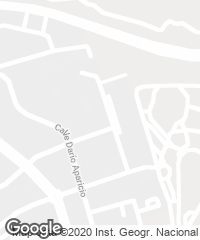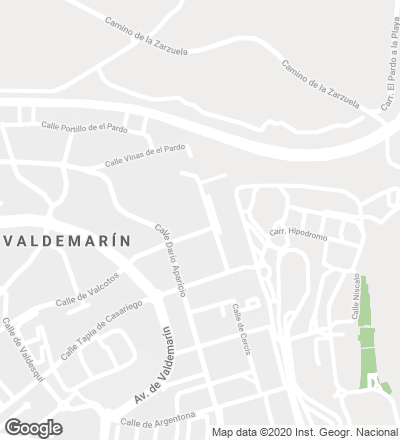 The decision  to extend the Estudio school goes back to 1993, when the new management plan drew up a program to improve the existing spaces and incorporate classrooms, laboratories, staff rooms and a covered gymnasium. Taking up the parcel right next to the complex built by Fernando Higueras, formed by pavilions with large horizontal balconies and hipped tile roofs, the new building had to fulfill two premises that were hard to reconcile: a minimum occupation in plan – floor area was scarce and expensive, so a design in height would reduce costs –, and a presence that should not compete with the original construction.
Construido como una gran caja de hormigón blanco empotrada en el terreno, el nuevo pabellón comprime en dos niveles usos antagónicos: el aulario se sitúa en la parte superior, cubriendo el gran espacio polideportivo.
Between the two levels of the plot, the solution selected was a large white concrete box with a quadrangular floor plan, slightly turned with respect to the school, in front of which this box establishes its own axes and a new entrance. The smaller facade rises towards the old building, of only one floor and three accesses through smooth ramps that reduce the scale of the volume, while on the opposite side and facing the street rises a large grid facade of over twelve meters. In the interior, the sports hall is buried in the lowest area of the plot, interposing between the retaining wall and the court a freestanding bay of service areas in three heights – dressing rooms, offices and open living areas – which look out to the court through the rows of seats. Towards the wall lies a courtyard traversed by shafts of light that draw luminous circles at different points as the day goes by, thanks to six perforated openings on the roof. A glass facade on the northern front visually links the old outdoor field with the interior of the sports pavilion.
The classroom hall, the other main part of the program, is built following a grid of rooms wrapped up in the structure of large spans that covers the sports field. This generates an inhabited roof that updates the design of Alejandro de la Sota for the gymnasium of the Maravillas school, and stretches it to the full extension of the volume. The central part of this 'lid' incorporates a large opening that brings the white light trapped by the strips of skylight into the sports area. A structure made of post-stressed concrete beams and steel latticeworks makes it possible to occupy the roof, while the elaborate acoustic design, based on a suspended ceiling between the gymnasium and the classrooms, manages to harmoniously combine study and sports in one same container.
La estructura de vigas de hormigón postensado de 19 metros y celosías de acero de 32 metros permite ocupar el espacio de la cubierta y salvar las grandes luces de la cancha sin pilares intermedios.
Cliente Client
Colegio Estudio
Arquitectos Architects
Jerónimo Junquera, Liliana Obal
Colaboradores Collaborators
Juan Manuel Palacios (arquitecto architect); Fernando Vasco (aparejador quantity surveyor)
Consultores Consultants
Carlos Fernández Casado S. L. (estructura structure); Rafael Úrculo (instalaciones mechanical engineering); Manuel Margarida (acústica acoustics)
Contratista Contractor
NECSO; Hiberlux (carpintería metálica, muro cortina y lucernarios metal framework, curtain wall and skylights)
Fotos Photos
Javier Azurmendi