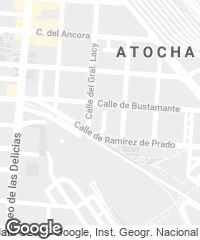 Very close to Atocha station, the old El Águila brewery is a reflection of the recent past of Arganzuela, today a residential district in the south of Madrid that was once characterized by its industrial fabric. The construction of its main buildings, of Neo-Mudejar style, began in 1912, but, amongst the buildings added over the years, a volume of twelve metallic silos stands out for its colossal scale. Included in the heritage list, this site was selected for a competition to house a Center for the Arts and Culture that could extend the Prado Museum axis towards the south. As a result of this competition and of a redefinition of the program, the old factory now contains the Regional Archive and Library of the Community of Madrid.
The grounds of the old factory of El Águila beer in the district of Arganzuela are taken up by new constructions that are interspersed with the old brick buildings and the barley silos to create a documentation center.
The outdoor spaces of the old factory are key in the redefinition of the complex, encouraging the dialogue between the existing sturdy brick sheds and the lightness of the new pieces.
The open spaces of the block where the factory goes up – delimited by the streets General Lacy, Bustamante, Vara del Rey and Ramírez de Prado – have deserved the same attention as the built area when defining the new layout and multiplying the possible itineraries. As two interlocked hands, the existing buildings and those that have been added establish close links between one another and with the voids they embrace. The Regional Archive and Library are also defined in this project as joined hands: one hand protects the historical legacy, while the other shelters the present and future heritage. White concrete, cast aluminum slats or U-glass, all of them industrial materials, define the pieces that are added to what already stands as a cultural factory.
Located on the eastern part of the plot and with almost 30,000 square meters, the archive is distributed in three well-differentiated modules: the deposits building, a new volume, rises six floors to custody documents in 100 linear kilometers of bookshelves surrounded by a double translucid facade; the admissions pavilion, also new, comprises the workshops for the restoration and treatment of documents; and the old brewing hall houses offices and customer service areas. A tree-lined courtyard separates this last module from the cafeteria volume that, along with the large corner house that is now the Legal?Deposit, flank the entrance on Ramírez de Prado street. The library, of 10,000 square meters, takes up the western side of the plot, with the reading rooms fit into what used to be the malthouse, the spaces devoted to technical processes in a new building and the book deposits in the silos that used to store the barley.
Cliente Client
Comunidad de Madrid
Arquitectos Architects
Luis M. Mansilla, Emilio Tuñón
Colaboradores Collaborators
Matilde Peralta, Andrés Regueiro, Ainoa Prats, Óscar F. Aguayo, Jaime Gimeno, Fernando García-Pino, María Linares, David Nadal, Robert Reininger; Santiago Hernán, Juan Carlos Corona (aparejadores quantity surveyors)
Consultores Consultants
J.G. Ingenieros (instalaciones mechanical engineering); Alfonso Gómez Gaite (estructuras structural engineering); Grupo Entorno (fachada de aluminio aluminum facade); C&G Carandini (iluminación lighting)
Contratista Contractor
Dragados y Construcciones
Fotos Photos
Luis Asín, Roland Halbe