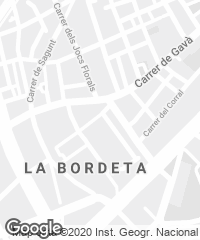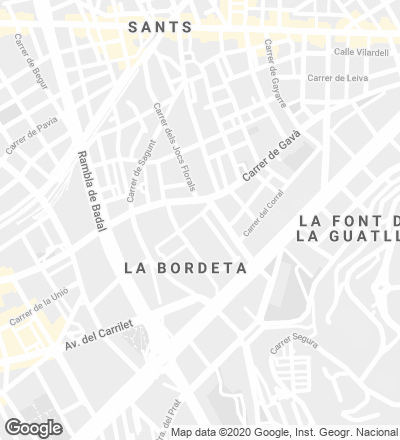 Since its birth in 1878, the Can Batlló compound and La Bordeta quarter share a long history of growth and transformation with Barcelona. The city's industrial heyday saw the complex expand and new buildings rise. Over time, however, these fell into disuse, culminating in a recent community-led initiative to repurpose the largely abandoned structures.
This project, which develops the programme for a media school in the compound's 7th nave, is the cornerstone of a larger effort to open Can Batlló to the Gran Vía and the greater public. 
The facades reveal the different stages in the construction process; the roof, visible from the Gran Vía, is conceived as a 'fifth facade.' A landscaped slope contributes to controlling direct sunlight.
In approaching this project, the first step was to respect the architectural heritage of the building, maintain its original typological traits and make the additions completely reversible. The smaller and repeated elements are placed on the ground floor, where the modular pillar structure was adapted and reconverted into a series of classrooms; the larger pieces are on the first floor, because the trusses lend themselves to wider and more open spaces. The project offers at all times a clear and differentiated reading of the existing industrial architecture and the new uses.

The project, likewise, takes full advantage of the ground floor's height, where a two-storied central structure has been installed. On its first level, this piece houses the classrooms, and, on the second, the administrative offices. The structure's strategic location, in turn, organizes the surrounding areas, which include a reception, a media library and student lockers. Their permeability, at the center and at the ends, offers multiple spaces for encounter and alternate itineraries. 
A similar structure was installed on the first floor. The piece itself houses radio booths, practice rooms, changing rooms, and photography studios. However, since it occupies only half a bay, it also generates an open area that can be alternately used as a foyer, a working area for students or as an exhibition gallery. The floor's second bay, in contrast, is home to a TV set, a theater and a cinema. All of these require large structural spans and absolute acoustic insulation.
The smaller spaces are placed on the ground floor, with a dense and modular structure of columns that favors adaptation; the larger ones are on the first floor, where the truss structure permits open-plan spaces. 
The side volume attached to the buildings is preserved and houses the main lobby, the vertical communication cores, bathrooms, and mechanical installations. Two additional stairs at the edge of the building function ordinarily to communicate the different floors and as access to the roof for maintenance works.

The characteristic features of industrial architecture are preserved and emphasized: order, repetition, and structural simplicity. The new interior volumes offer both transparency and a total privacy. 
Cliente Client
Consorci de l'Educació de Barcelona
Arquitecto Architect
Josep Mª Julià Capdevila
Colaboradores Collaborators
Jordi Gorgues, Alfons Güell, Aina de Montserrat, Gil Roca
Consultores Consultants
Jordi Payola (estructura structure); TDI Enginyers (instalaciones mechanical engineering); AT3 Oller-Peña (mediciones y presupuesto measurements and budget)
Fotos Photos
Adrià Goula