Civic Center Cristalleries Planell 1015, Barcelona
Harquitectes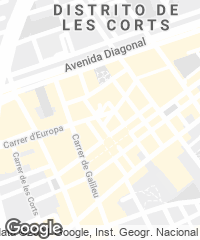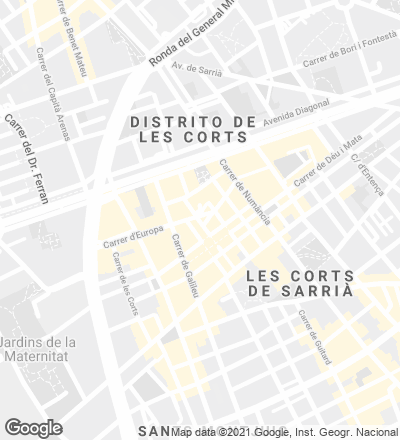 This public facility houses an adult education center, a language standardization consortium, and a hotel on a triangular plot in the Les Corts district. Two of the three sides of the site are defined by the heritage-listed frontage of the former Planell glass factory, built on Calle Anglesola in 1913.
The building makes use of the entire plot, acting as an intrinsic part of the urban landscape. The programme is distributed across four levels which are set back from the south-facing heritage facade. The resulting atrium reconciles construction and heritage, improves natural lighting for the classrooms and provides a heat and sound barrier. This long, narrow courtyard is reproduced at the northern vertex, which exhausts the geometry but acts as a relational system between the administrative uses of the building and the exterior.
The building section shows how it manages the air under natural conditions. In winter, it is necessary to control heat loss due to air renewal, redeem the heavy internal load built up due to the inertia of the wall structure, and draw fresh air in from the atrium, which thus acts as a natural air recycler. In summer, heat has to be dissipated by moving the largest possible volume of air and fresh air must be strictly natural, based on solar chimneys and caps that apply the Venturi effect. Cross-ventilation between the courtyards is ruled out by the programme and the need to avoid conflicting noises. The building therefore gives each strip of usage space a long structural break where the air circulates vertically, 'pulled upwards' by the power of the sun in the chimneys, which also give the building a silhouette and a distinctive, transparent materiality.
On a plot with a markedly triangular geometry, the building is detached from the listed facade of an old glass factory and opens up to fresh interior courtyards that are connected to a row of solar chimneys. 
The final volume thus responds to the strict triangular geometry of the site. Its ceramic materiality addresses the desire to highlight the heritage facade by blending it in instead of singling it out. The old and the new are therefore placed on the same level using similar materials and techniques and addressing compulsory requirements (enclosure, ventilation, etc.). The material quality obeys to structural reasons and is complemented to improve lighting in the courtyards and to fit out the facade with a material connected to the memory of the old factory. The use of massive glass block as part of the wall enclosure brings light into the north courtyard and captures it in the south courtyard.
Arquitectos Architects
Harquitectes (David Lorente, Josep Ricart, Xavier Ros, Roger Tudó)
Colaboradores Collaborators
Blai Cabrero Bosch, Montse Fornés Guàrdia, Toni Jiménez Anglès, Berta Romeo, Carla Piñol, Xavier Mallorquí, Andrei Mihalache
Consultores Consultants
ARS Project (consultora ambiental environmental consulting), DSM arquitectes (estructura structure); TDI (ingeniería engineering); Play-Time (visualización 3D 3D visualization)
Contratista Contractor
Construccions DECO S.A.; Geze Iberia (motorización ventanas motorized windows)
Superficie construida Floor area
1.694 m²
Presupuesto Budget
1.936.000 € (PEC contract budget)
Fotos Photos
Adrià Goula