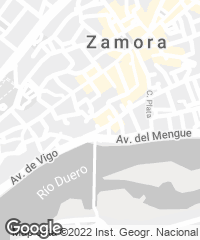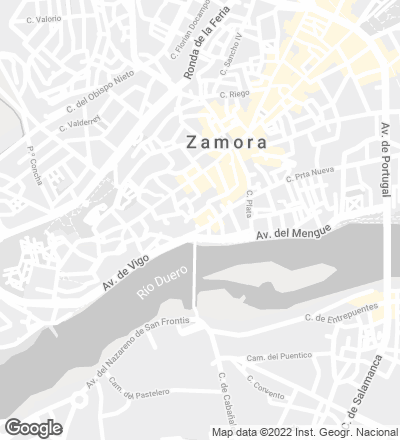 Outside town, and situated beneath the collapsing wall overlooking the Duero River, the museum presents itself to the city of Zamora as a coffer containing its jewels and memory. Its bold and cubic form, inserted in the middle of a sloping urban block with a range of topographical outcrops, strikes a contrast with the 19th century housing around it and with the Cordón Palace and Church of Santa Lucía. The building rejects axial academic compositions and finds its space amid the existing buildings, almost touching them, so that it is the interstitial spaces between these and the rocks that enhance the building per se. The result is a compact volume that draws attention towards the fragmented, foreshortened views, barely revealing the solid mass. The only entirely discernible plane and that allows the building to come across as an autonomous object is the skylight-filled roof, fully visible from the high part of the old quarter.
A desire to bring the collection within reach of the town prompted to shift the access into the museum from Santa Lucía square to the San Cipriano slope, elevating the access level. The creation of this intermediate level marks the essential starting point for the development of the program: below it are the storage areas and all those activities that take place when the museum is closed, whereas the upper floors accommodate the skylit exhibition halls, which follow a spiral circuit traced by a long, two-way ramp. These halls display archaeological remains, documents and works from prehistory, Roman times and the Middle Ages, all the way up to modern days. An articulated cabinet custodies the museum's most precious possession, the Arrabalde treasure. A separate pavilion linked to the storage zones houses the restoration facilities, separated from the main volume by a courtyard and independently accessible from the San Miguel alley.
The building is constructed with white concrete walls and slabs. The facade, of sandstone from the Villamayor quarries of Salamanca, presents a segmented arrangement of ashlars of 15x15x30 centimeters – the dimensions of the adobe pieces used in the typical constructions in the area – held up by stainless steel anchors. The zinc-sheeted roofs fold via grooved clamps, as in traditional building systems. The interior and exterior pavings, as well as the interior latticeworks, have been carried out in teak wood.
Cliente Client
Ministerio de Cultura
Arquitectos Architects
Luis M. Mansilla, Emilio Tuñón
Colaboradores Collaborators
Andrés Regueiro, María Linares, Fernando García-Pino, Josefa Blanco, María Ochoa; Santiago Hernán, Juan Carlos Corona (aparejadores quantity surveyors)
Consultores Consultants
J.G. Ingenieros (instalaciones mechanical engineering); Alfonso Gómez Gaite (estructuras structural engineering); Grupo Entorno (museografía, mobiliario museography, furniture)
Contratista Contractor
FCC Construcción
Fotos Photos
Luis Asín, Hisao Suzuki