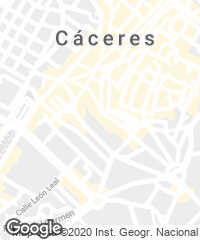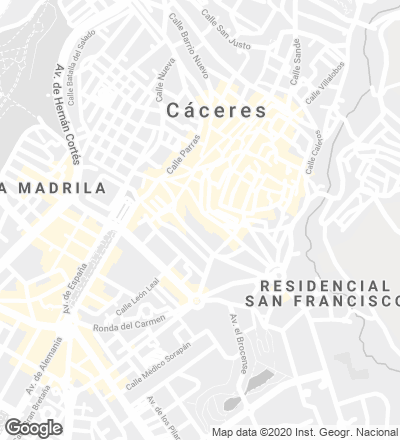 Located on a plot that performs as a frontier both historic – bordering on the medieval quarter – and geographic – the building traces the jagged edges of a valley –, the project for the refurbishment of the Casa Grande (an estate that used to accommodate the university) and its extension with an annex building proposes the transformation of this house into the new headquarters of the Visual Arts Center of the Helga de Alvear Foundation.
The Center's essential purpose is to display the Helga de Alvear modern art collection – one of the most important of Spain, with some two thousand art pieces –, and will be devoted to the dissemination and research of the visual arts and any other of the related artistic expressions. The proposal gives the plot the character of space of transition and exchange it used to have, and renders it permeable. From Pizarro street, crossing the Casa Grande through the walkable roof of the new building, begins a public itinerary that is another step in the sequence of plazas and alleys that fill the historic fabric of Cáceres, and it is also the natural way to span the unevenness that leads to the new part of town. Just like art, previously a privilege of the elites, it becomes accessible, and the project also wishes to blur the boundary between what belongs to everyone and what belongs to just a few, using the voids to articulate a public artery that crosses, without touching it, the private realm.
The project constitutes in this way a boundary that is, at the same time, meeting point; a permeable piece that blends into the city, where the collection is not part of a conventional museum but of a dynamic cultural center; a building in which the itineraries intertwine and both users and passers-by coincide in the same spaces. The program constitutes an active way of understanding art and proposes the creation of different workshops, rooms that can be used autonomously so that users can walk into the world of art acting upon them.
The first phase of the museum is centered on the remodeling of the Casa Grande, which has a total surface of 3,500 square meters and where an anthology will sum up the collection of the foundation. In this way, when in a near future the extension of the center is concluded, the exhibition halls of the Casa Grande will become the offices of the foundation, and the city will have a new pedestrian communication between two urban spaces on different levels. 
Cliente Client
Junta de Extremadura
Arquitectos Architects
Luis M. Mansilla, Emilio Tuñón
Colaboradores Collaborators
Andrés Regueiro, Matilde Peralta, Carlos Martínez de Albornoz, Marceline Ruckstuhl, María Langarita, Ana del Arenal, Anna Partenheimer, Arabella Masson, David Orkand, Marta Renom, Jorge Ruiz Boluda, Mila Moskalenko, Bryony Roberts; F. Benito Fernández Cabello, Santiago Hernán (aparejadores quantity surveyors)
Consultores Consultants
J.G. Ingenieros (instalaciones mechanical engineering); Alfonso Gómez Gaite (estructuras structural engineering)
Fotos Photos
Luis Asín