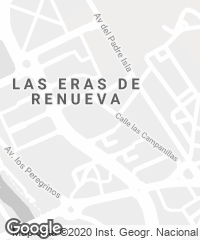 The MUSAC (Museum of Contemporary Art of Castilla y León) takes up a flat and large surface in the center of León, not too far away from the Plaza de San Marcos and the Ciudad de León Auditorium, and not too far from its emblematic cathedral. The building, of one single level, is designed as a sequence of autonomous pieces – squares and lozenges on a one to one relationship – that gradually sow up a distorted chessboard, and where the boundaries, far from adjusting to a predetermined shape, define an uneven and broken contour.
Over a large urban surface, the museum gives the city a space for open and dynamic art, an addition of autonomous and linked halls that follow one another amid colored glass sheets and translucent rooflights. 
The different halls allow accommodating exhibitions of different sizes and characteristics; each one generates a continuous but spatially differentiated environment that opens up to the other rooms and courtyards, offering longitudinal, transversal and diagonal views, in a complex three-dimensional pattern which also incorporates six large skylights.
The concrete walls are clad in translucent glass. Towards the square, the building configures an agora for outdoor activities: here the colors of the glazed sheets pay tribute to the stained glass windows of the cathedral.
The interior space is defined by white concrete walls which constitute the structure along with five hundred prefab beams of the same material. Both the large windows that look onto the courtyards and the skylights are made with a double sheet of glass, the separation of which generates an intermediate space that permits cleaning and the complete darkening of the halls. The artificial illumination, of industrial character, is installed with electrified rails which function in specific cases. Each shed is materialized on the roof – fifth facade and reflection of the geometry of the floor plan – in two levels: one corresponds to the technical floors of the systems, built with titanium zinc, and the other to the voids between them, which are built as inverted roofs with a white gravel finish. The pavement is made of continuous concrete.
Externally, the complex wraps its opaque windows with translucent security glass, colored and vitrified. In the entrance, where the building is laid out as a concave agora for activities and gatherings, the colors chosen to dye the facade glass are the result of the digitalization of a piece of the 'Halconero de la Cacería', the oldest stained glass window of the Cathedral of León, which dates back to the 12th century.
Understood as a living space, a sequence of similar and differentiated spaces, open to the city and the citizens, the MUSAC?aims to create a space where art feels at home, also helping to erase the boundaries between private and public, between leisure and work, art and life.
Each hall, with its cracked perimeter, builds a continuous but spatially differentiated atmosphere that opens up to the other halls and courtyards affording longitudinal, transversal and diagonal views. 
Cliente Client
Gesturcal, Junta de Castilla y León
Arquitectos Architects
Luis M. Mansilla, Emilio Tuñón
Colaboradores Collaborators
Andrés Regueiro, Luis Díaz-Mauriño, Ainoa Prats, Jaime Gimeno, Matilde Peralta, Clara Moneo, Teresa Cruz, Óscar F. Aguayo, Gregory Peñate, Katrien Vertenten, Ricardo Lorenzana; Santiago Hernán, Juan Carlos Corona, Arcadio Conde (aparejadores quantity surveyors)
Consultores Consultants
J.G. Ingenieros (instalaciones mechanical engineering); Alfonso Gómez Gaite (estructuras structural engineering); C&G Carandini (iluminación lighting)
Contratista Contractor
Musac de León UTE (FCC/Teconsa)
Fotos Photos
Luis Asín, Roland Halbe