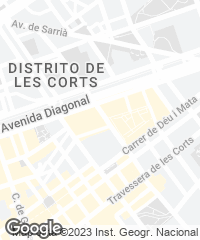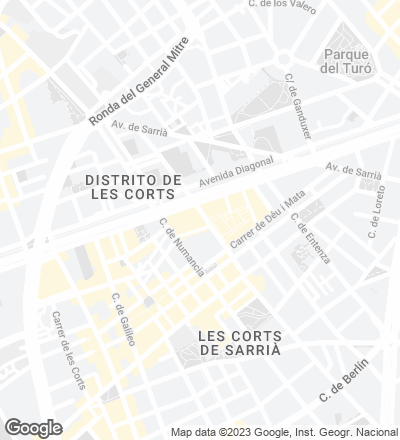 In the year 1986, the architects Rafael Moneo and Manuel de Solà-Morales won an invitational competition for a complex urban program on a wide trapezoidal site located between Avinguda Diagonal and Carrer Déu i Mata, on the one hand, and Numància and Pau Romeva streets, on the other; that is, located in the transition area between the 19th century Eixample and the 1960s and 1970s grid, characterized by discontinuity and open construction.
Located in the transition area between the Eixample and the 1960s and 1970s city grid – characterized by discontinuity and open construction –, the project ties up two sections of the city. 
Exploiting the Diagonal's potential as the basis of an architecture able to contribute to city-building, favoring the continuity between two very different urban sections, was the strategy that set the tone for the rest of the project. Hence, rather than interpreting the site as emptiness to be filled up with a whole series of isolated towers and volumes, the architects interpreted it as fullness, as a completely constructed surface on the Cerdà urban design which, though possibly an anomaly because of its strange perimeter, could also be considered another piece of its grid. An element that expands and at the same time compacts the fabric of traditional Barcelona. 

The proposal was to build along the Diagonal, guaranteeing the continuity of the urban fabric. Raising a building over 300 meters long is no easy task, however, so to prevent the huge volume from being perceived as an undifferentiated mass, both the floor plan and the profile were fragmented and segmented, and the facades were arranged in strata of certain depth. Indeed, much thought was given to how the building looked from the street, from the broad sidewalks, which underlines the importance of considering tangential perspectives. 

It is also important to point out that the building's image was entrusted to the empty space, reinforcing its urban status. This is something uncommon in today's architecture, and that insists, again, on the urban condition of the block: the void interpreted and accepted as an urban element par excellence. L'Illa Diagonal acknowledges this, and the attention given to its design – proportion, measurements, construction – and its manipulation – rhythm, distances, scales – is ever present in the architecture. All the above-mentioned suggests that this building is attentive to what is unique and specific, hence its resistance to regularity and symmetry.

The openings take on the essential role of expressing the urban character of the facades onto Avinguda Diagonal, and of differentiating, in the interior facades, the wide range of uses in the building. 
Cliente Client
Winterthur
Arquitectos Architects
Rafael Moneo, Manuel de Solà-Morales
Colaboradores Collaborators
Lluís Tobella, Antón María Pàmies, Andrea Casiraghi, Francesc Santacana, Lucho Marcial, Félix Wettstein, Román Cisneros, Isabel Pericas, René Hochuli, Kate Webb (arquitectos architects)
Dirección de obra Construction supervision
Rafael Moneo, Manuel de Solà-Morales, Oriol Mateu
Consultores Consultants
Mariano Moneo (ingeniero estructura structure); Sereland, Técnicas Reunidas (instalaciones mechanical engineering)
Contratista Contractor
Agroman-Holzmann
Superficie Floor area
180.000m²
Fotos Photos
Michael Moran/OTTO, Lluís Casals/VEGAP/Madrid 2023