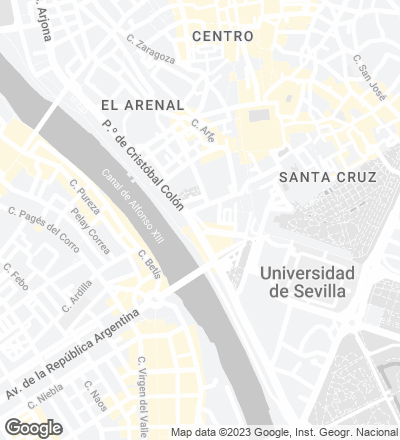 This new branch of the insurance company Previsión Española sought to blend into the architectural tradition of Seville, but without making a fuss. The idea was to respect the surrounding city, integrating the building into its scheme and adjusting it to the city through the right choice of scale. This aspiration explains why the formal structure of this building does not deviate much from that of the bulk of Seville's public buildings, many of which follow a horizontal tripartite scheme consisting of a plinth, a piano nobile, and an upper floor. It also explains the composition of the building: a continuous volume linked to the city's geometry.
In traditional Sevillian architecture, the main entrance assumes a vital role, and the Previsión Española building is a case in point. The facade seems to be based on the concept of a wall running around and protecting the premises, a clear allusion to the city's ramparts. Moreover, the geometry of the corner apparently alludes to the dodecagon of the Torre del Oro nearby.
The delicate weave produced by the alternation of rows on a strict vertical plane, and on another, set back, stretches across the building's three horizontal strata. The first stratum – corresponding to the lower floor – consists of a granite base, a line of square pillars that are set at an angle so as to hold up a continuous cast iron railing at their vertices, and a series of horizontal bands, reaching up to 5.40 meters, on which a number of small openings are placed. The second level, corresponding to the main floor, is organized as a succession of openings with alternating marble columns and half-columns of curved brick. A white cornice in bush-hammered concrete provides further protection and stresses the horizontality of the openings, interrupted only by the prow-altarpiece. The third stratum, on the second floor, is situated behind the cornice and formed by a continuous parapet in white marble. Resting on the parapet is a continuous line of small columns, a continuation of the facade's system of vertical supports.
This arrangement and the allusions to the past are enriched by the treatment of the materials. The pressed and curved brick is juxtaposed with Macael marble; cast iron railings and latticework, with folding shutters; and a glazed tiled roof, with a concrete structure. All this to give life to a building that wants to avoid the excesses of populistic picturesqueness as much as those of avant-garde radicalism...[+][+]
Cliente Client
La Previsión Española, S.A.
Arquitecto Architect
Rafael Moneo
Colaboradores Collaborators
Gonzalo Díaz Recasens (arquitecto colaborador en dirección de obras assistant architect construction supervision); Francisco González Peiró, Antonio Cueto (aparejadores quantity surveyors)
Consultores Consultants
Mariano Moneo (ingeniero estructura structural engineering); O.T.D. Consultores (instalaciones mechanical engineering)
Superficie Floor area
5.074m²
Fotos Photos
Hisao Suzuki, Lluís Casals/VEGAP/Madrid 2023, Dida Biggi, Michael Moran/OTTO, Åke E:Son Lindman