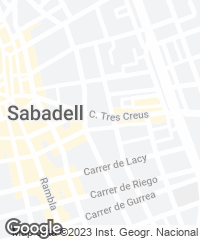 The new project goes up on a triangular plot, next to the building Vapor Sampere, which constitutes one of the most important examples of industrial architecture of Sabadell, and was built at the beginning of the 20th century to provide energy to the numerous textile mills of the city. This project consists of two pieces that accommodate business premises at street level and dwellings on the rest of the floors, and aims at improving the quality of the interior space of the housing block as well as the volumetric relationship between the new buildings and the existing industrial complex.
The building is terraced from a maximum height of six floors, reached at the corner of the streets Tres Creus and Sallarès i Plà, until it reaches its lowest point, with a height of three floors, at the point where it meets the Vapor Sampere, on Turull street. Towards the interior, facing south and with the best views, the project opens up with a cracked trace, turning the space between the new buildings and the old factory not into a passing area, as it had been up to now, but into a large semipublic zone that offers new views of the old building.
The proposal must address the different features of the environment, and this generates a clear contrast between the exterior, which faces Tres Creus, one of the main streets of the center of Sabadell, and its interior, where the pursuit of privacy and quiet is the principal aim. The massive exterior facades are built in brick, a material that in this case takes on different textures, its relief varying according to the height. With the purpose of avoiding a rigid and monotonous arrangement, the openings are placed following a relaxed rhythm.
In contrast, the interior facades are built with a system of lightweight elements, and are solved with projecting wood blinds. This protection from the sun intensifies the use of exterior galleries, which can be used during most of the year thanks to Sabadell's good climate, and whose appearance evokes the traditional courtyard enclosures of the Cerdá Ensanche.
This differentiation of the facades accounts for the distribution of the dwellings: the bedrooms and bathrooms are placed towards the exterior and following a strict order, whereas the living spaces are towards the interior, facing south and the surrounding views. The living room, dining room and kitchen, with a more flexible organization, adjust to the pleat of the facade... [+]
Cliente Client
MRP Inmuebles
Arquitectos Architects
Rafael Moneo, José Antonio Martínez Lapeña y Elías Torres
Colaboradores Collaborators
Juan Manuel Nicás, Filippo Serra, José Ortiz, Guillem Bosch, Iago López, Lluisa Morao, Laura Jiménez, Marta Carbonell, María Pizzamiglio, Pablo Tena, Alexandra De Chatillon; Enrique Moreno (aparejador quantity surveyor)
Consultores Consultants
Static/Gerardo Rodríguez (estructura structure); Font (instalaciones mechanical engineering)
Contratista Contractor
Jardí 2002
Fotos Photos
Duccio Malagamba