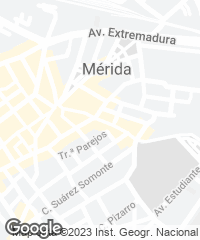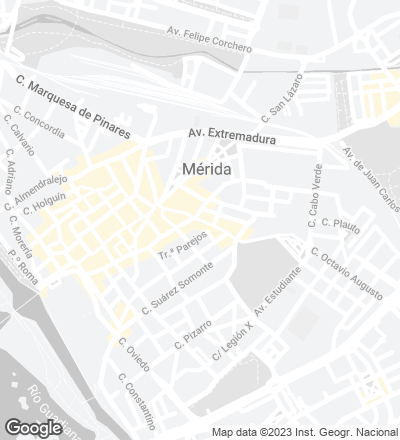 Mérida, the old colony of Emerita Augusta, is an inexhaustible quarry of remains from its glorious past, and even more so since the Renaissance, when the interest in classical antiquity bloomed.
The purpose of the first Roman Museum in the city, settled for a century and a half in the old church of Santa Clara, was to treasure those remains. The museum's collection proceeds from that of the Count of La Roca, created in the 16th century. With the excavations carried out in the early 20th century, the museum collections grew significantly, to the point that the original building could by no means house more items, and the provisional pavilions fit out in La Alcazaba soon filled up too. To remedy this situation, the Decree 2.764 of 1967 established the creation of a new National Museum of Roman Art, with a new building able to house the preserved collections from Santa Clara church and to take in new acquisitions.
The project addressed this demand by accepting, from the start, the condition of the context: a modest site, anonymous, which had to activate itself so that the museum could function as a foretaste of the spectacle that Roman ruins are for visitors. The building is thus defined by the unfurling of a series of buttresses that unveil the interior plan and reflect the solidity of the Roman construction.
The desire to evoke the past can be felt throughout the project. The building hints at the scale of the Roman town of Mérida, but doesn't do so through literal imitation, but through the adoption of Roman construction methods: concrete poured between two brick layers that creates an architecture of parallel walls in which the main problem are the intervals, the proportions, and the openings.
This system of parallel walls is transformed upon encountering another system, that of the voids, to develop the central theme of the museum: the fiction of a large elongated nave along which the objects, so effortfully obtained by archaeologists over decades of work, are placed. The system of cross walls also defines a series of cross galleries whose deliberately secondary condition contributes to stressing the character sought for the museum: that of a huge library of stone remains. A series of corridors and walkways makes these side galleries accessible, offering unexpected views of the large central space, the key episode of the whole...  [+]
Cliente Client
Ministerio de Cultura, Dirección General de Bellas Artes, Archivos y Bibliotecas
Arquitecto Architect
Rafael Moneo
Colaboradores Collaborators
Nieves La Roche, Juan José Echeverría, Enrique de Teresa, Georges Meylan, Charles Meyer, Stanley Allen, Pedro Feduchi, (arquitectos architects); Francisco González Peiró (aparejador quantity surveyor)
Consultores Consultants
Jesús Jiménez Cañas, Alfonso García Pozuelo (ingeniería engineering)
Dirección de obra Construction Supervision
Rafael Moneo (arquitecto architect); Francisco González Peiró, Rafael Luque (aparejadores quantity surveyors)
Contratista Contractor
Cubiertas y M.Z.O.V.; Manuel Juan García (técnico de obra site technician)
Superficie Floor area
10.380m²
Fotos Photos
Lluís Casals/VEGAP/Madrid 2023, Dida Biggi, Michael Moran