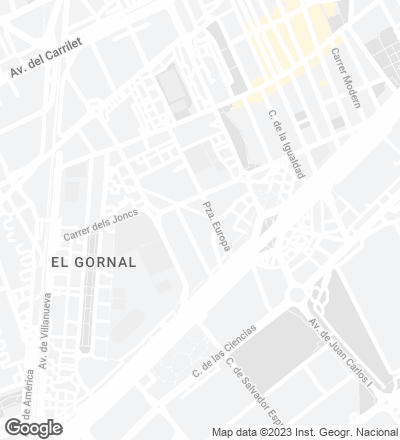 In an area where other towers of similar height go up, the new headquarters of Grupo Puig goes up in Plaza Europa, midway between El Prat Airport and the city. The tower complies with the urban codes regarding floor plans and height. The purpose that it be perceived as a unitary figure, and not just as a simple superposition of horizontal floors, inspired the glass spiral that wraps the volume. The iconographic role of the corporate headquarters is entrusted to the bold geometry of the tower's architecture, because the emphatic spiral makes reference to the importance Puig has always given to its fragrance bottles. The spiral also makes an allusion to the company's tenacity and will to excel.
Rising 109 meters high, the tower is organized in one square of 27.5 by 27.5 meters, with the nucleus in the center; the facade consists of a double skin whose outer sheet takes the form of spiral glass strips.
The floor plan – a square with sides measuring 27.5 meters – reflects the prominent role of the core, which defines and structures the usable area. Around the core are the work areas, from which one enjoys the urban landscape. The glass band gives the interior spaces an attractive filter for the interior spaces and improves insulation in the tower, which has earned LEED Gold certification. The neutrality with which the nucleus is installed within the floor plan permits organizing the complex program and adopting a variety of layouts, with a modulation of 135, 270, 405, and 810 centimeters, present in all the building's elements.
The program consists of an auditorium or debate room – based on Harvard's model of participatory lecture halls –, and meeting rooms on level -1, which are connected to the ground floor via a staircase parallel to the nucleus inside a double space. The ground floor contains the lobby and reception area linked through a spiral staircase to the first floor, where the cafeteria is located. This floor doesn't take up the whole area, creating a double space that singularizes the lobby. On the second floor is the restaurant, with the kitchen attached to the nucleus and running parallel to the facade. The 3rd floor harbors the gymnasium with its dressing rooms, also attached to the nucleus. Floors 6 and 7 are interconnected, with a metallic staircase parallel to the nucleus and to the 9th floor, which contains the meeting rooms. The layout pursued freeing up the spaces from partitions, with open space configurations from the lobby and up. The most exclusive spaces are concentrated along the sides, and the entire building is wrapped in a smooth glass skin with an abstract set of diagonal bands.
Cliente Client
Grupo Puig
Arquitecto Architect
Rafael Moneo; GCA Architects (Antonio Puig, Josep Riu); Lucho Marcial
Colaboradores Collaborators
Roser Huguet, Josep Puig, Juan Velasco, Cristian Naudin (arquitectos directores de proyecto architects in charge); TECNICS G-3 / Victor Forteza, Martí Santana, Aleix Samperiz (dirección ejecución project manager)
Consultores Consultants
BOMA / Agustin Obiols, Alicia Huguet (estructuras structural engineering); PGI Group / David Tuset, Miquel Vilanova, Jordi Llobet (instalaciones mechanical engineering); ERF (Estudi Ramon Folch i Associats) / I. Alomar, H. Berlanga (certificador LEED LEED consultant); Ingeniera Permasteelisa (consultor de fachada facade consultant); Ferres Arquitectura (dirección de obra de fachada facade construction management); Ingea / Joan Pinell (seguridad y salud health and safety)
Contratista Contractor
Comsa
Superficie construida Floor area
23.576 m2
Fotos Photos
Duccio Malagamba