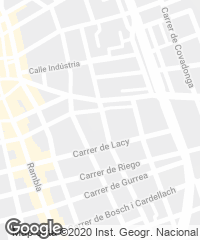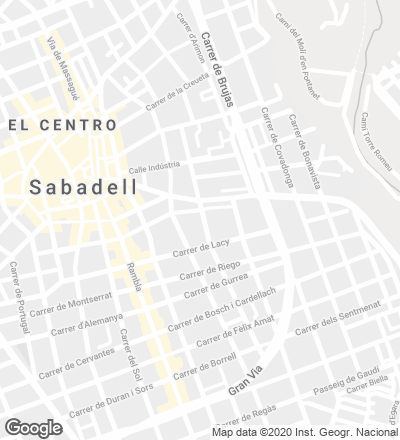 The school is located in the urban center of Sabadell, at a corner where two buildings aligned with the street create a wide courtyard with a sports hall inside the block. The project intervenes only in the oldest building (1959), housing the preschool classrooms and a few outdoor spaces.
The essential strategy is to make the most of the huge potential of the original structure, both the built and the usable spaces. The main interventions are: a complete indoor refurbishment; an extension of 240 m² added to the existing 1.200, with a new south facade onto the courtyard; two new playgrounds; and a new porch at the entrance.
The costlier intervention, which was not in the competition brief but led to winning, is the extension of the classrooms facing the street. However, the extension was carried out along the other facade, the interior one – obviously it is not possible to extend the building to the street –, going from 15.5 to 18.5 meters deep. On the ground floor, the pre-school classrooms are extended from 35 to 50 m² to the courtyard side, keeping the corridor in its original place. In contrast, on the upper floors the classrooms facing the street are extended, moving the corridor to the other side of the central load-bearing wall. This change defines one of the most powerful and unique actions: the opening of a new corridor that crosses the 30 cm walls that originally separated the classrooms.The extension consists of a new metallic (parasite) structure, held by the steel pillars of the preexisting facade – from a first extension of 1970 – and by new pillars at the edge of the playground and supported by the retaining wall of the basement floor.
On the south facade, a passive system of fixed slats of perforated sheet controls sunlight – letting through only 20% of the annual radiation concentrated during the coolest months – and ensures good ventilation in the classrooms. The slats, resistant to ball impacts, rest on thick Douglas pine wood battens, generating a vertical composition that balances the dominant one of the other interior facades.
A previously inaccessible roof is converted into a new outdoor playground – with beautiful views of the city –, by reinforcing the slab and adding a new flight to the existing stairs, preserved in the lower floors. The project creates another playground for pre-schoolers by replacing 250 m² of glass from the skylight over the stairs of access to the buried sports hall with a new composite slab supported by the existing beams. The concrete roof of the lift area (40 m²) is fit out with a sand park and grandstand.
Cliente Client
Agrupació Pedagògica Sant Nicolau
Arquitectos Architects
Harquitectes (David Lorente, Josep Ricart, Xavier Ros, Roger Tudó)
Colaboradores Collaborators
Blai Cabrero, Carla Piñol, Toni Jiménez
Equipo Team: BISarquitectes (diseño estructura, fase proyecto structural design, project phase), DSM arquitectura (diseño estructura, fase construcción structural design, construction phase), ÀBAC enginyers (ingeniería engineering)
Superficie construida Floor area
1.677 m²
Presupuesto Budget
840.000 € (PEC contract budget)
Fotos Photos
Adrià Goula