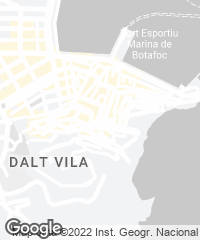 A trench has been dug around the old Casa de la Ciudad, with doors and windows bored in its walls. The new staircase providing access to the gate in the Moorish rampart allows for coming and going, and features Itialian-ramp steps.
In 1784, the ramp that led from the Ibiza cathedral to the castle which crowns Dalt Vila, the old city, was demolished. The staircase erected as a substitute has now been replaced by another one which allows access to the gate of the Moorish city wall as did the original of the 18th century. Forms recalling artfully folded paper spread out from the containing walls to the steps of the 'Italian ramp' creating a scenographic dynamic which delineates the journey of coming and going. All of these are cladded with the same 'Marés' ashlar that resembles the walls of the medieval site, thus working to foster similarity between new and old. The rehabilitation of the most exquisite space of the castle – the room with ribbed vaults in the Casa de la Ciudad –was carried out by excavating around it patios which seem carved into the stone.
The entry stairway (below left) and perimetral trench (right below and next page) are dressed with marés stone ashlars. At the bottom of this page, the hall with its Gothic fan vaulting. 
Cliente Client
Ministerio de Cultura.
Arquitectos Architects
Elias Torres & José Antonio Martínez Lapeña.
Colaboradores Collaborators
Salvador Roig, Xavier Pallejá (arquitecto / architect); Toni Ferrán Llobet ( aparejador / technical architect); Antoni Banús, Juli Carandell, Toni Casaus, Jaime Coll, Enric Escribá, Armán Fernández, Cinto Hom, Inma Josemaría, David Juárez, Moisés Martínez, Benjamín Pleguezuelos, Marta Pujol, José María Vallés, Marcos Viader, Nuria Vives.
Contratista Contractor
Dragados y Construcciones.
Fotos Photos
Hisao Suzuki.