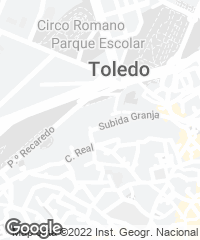 High building density, winding layouts and the reduced dimensions of the street pattern recommend to avoid traffic in the historic centers of cities, where passers-by and vehicles are headed towards a difficult coexistence. Besides these traditional handicaps, the city of Toledo rests on a precipitous topography that has always made it difficult to reach its urban center. In the past, it was Juanelo's wit that enabled to transport water to the upper part of town by mechanical means, now an automatic escalator will provide pedestrian access to the upper levels of the city from a parking area fitting 400 vehicles on Rodadero avenue, both designed within the urban plan that will restrict road traffic in the historic center of Spain's former capital.
To avoid the fatigue that walking on a steep hillside would entail, the escalator takes the parking lot of the Puerta de la Bisagra as its starting point, to conclude next to the Regional Government headquarters. The importance of this hill as landscape – the first image of Toledo arriving from Madrid – led to incorporate the escalator in an incision on the terrain, a zigzagging crack on the sloped plane that extends between the medieval wall and the street known as Subida de La Granja. As if it were a present day gate to the walled in premises, amid those of Cambrón and La Bisagra, a small covered pathway opening beneath the city wall foundation marks the beginning of the upward route. The division into six stretches allows an easy adaptation to the topography, avoiding the sense of vertigo that would affect users when seeing the whole escalator at once. From the top, the tourists may take a last glance of the plain from a viewpoint, before immersing themselves into the dense urban fabric of the historic center.
Along its half-buried course, the escalator is protected by a half-open concrete shell formed by its foundation, the land retaining wall and a slanted roof that ensures the continuity of the hillside's landscaped slope, raising slightly to open the ascending route to the changing views of the Tagus lowlands. The former use of the Rodadero hillside as a dump site made it necessary to stretch the foundation piling down to the rocky stratum located 30 meters below. The incision on the terrain was carried out with the same continuous and monolithic material, an ocher-colored reinforced concrete that extends the earthy colors of Toledo's traditional architecture to the northern elevation of the city.
Dividing the escalator in six stretches with a zigzagging layout allows to adjust to the topography, avoiding the sensation of vertigo that one fulllength stretch would produce upon the user.
La carcasa entreabierta de hormigón que alberga la escalera culmina en un mirador que enmarca una última panorámica de la llanura antes de que el turista se adentre en el angosto entramado de calles del casco histórico.
Cliente Client
Ayuntamiento de Toledo
Arquitectos Architects
Elías Torres & José Antonio Martínez Lapeña
Colaboradores Collaborators
V. Argilaga, J. Ballestero, N. Bordass, G. Bosch, M. Delso, S. Felipe, M. García, S. Larramendy, S. Martínez, F: Murphy, T. Nöel, A. Nurberger, P. Olivier, A. Reiber, M. Thomaas, I. Ugaarte, F. Vizoso
Consultores Consultants
G. Rodríguez (estructura structure); A. Guirao (topógrafo surveyor)
Contratista Contractor
Necso
Fotos Photos
David Cardelús; Roland Halbe