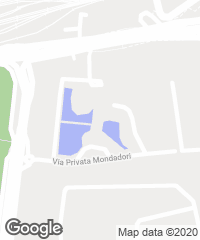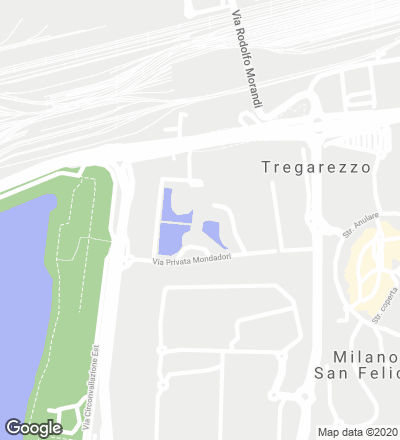 Giorgio Mondadori invited Niemeyer to build the headquarters of his company, a publishing house, in Segrate, a town on the outskirts of Milan. Located along the road to Verona and close to the airport of Linate, Segrate already had several office complexes. In contrast to the corporate image of this type of buildings, associated with the American concept of company, Niemeyer received the commission after Mondadori visited Itamaraty Palace in Brasília. Niemeyer designed two projects, and the second one was finally built.
The main building has the same origin as the palaces of Brasilia: a glass volume contained in a larger structure, a colonnade. But in spite of the resemblance in the section of the exposed concrete colonnade, of the use of water as architectural element and of the fact that both are divided into two volumes, Itamaraty and Mondadori are very different. Instead of the square floor plan and the four equal facades of the Brazilian building, in Milan Niemeyer created a pavilion, facing northsouth and measuring 200 meters long and 30 meters deep, which serves as administration building. The glass piece protected by the concrete shell is also different: while in Brazil it is detached from the series of arches, in Lombardy the glass box is held by braces to the portico, formed by the two structural lines of the two main facades, which have a suggestive irregular rhythm, with spans ranging between 3 and 15 meters. In words of the architect: "maintaining the archeries with unequal spans; in the different, almost musical rhythm that characterizes them".
Internally, two cores of vertical communication link the four free plan floors (plus the columns and the roof). In the offices, the use of colors gives each area an identity of its own.
The second volume of Mondadori Editore, unlike Brasília, is low and has a sinuous shape that crosses the building transversally. From side to front, with a more circular form, the volume is surrounded by water and seems to float "like an undulated willow leaf". This is where the dining room is and, on the opposite side, with a more flexible organization, are the editorial premises.
The structure was calculated by Luciano Pozzo and Antonio Nicola, and the architectural details, instead of being assigned to Milton Ramos, who did those of Itamaraty, were commissioned to Glauco Campello. The mirror of water, on the right side of the bridge that gives access to the complex, has a sculpture by Arnaldo Pomodoro... [+]