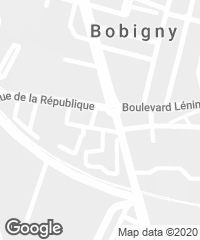 Located in the suburbs of Paris, towards the northeast, the Labor Exchange of Bobigny was the first structure built for this type of program in France. The complex, with an irregular design, goes up in a privileged location of the city, facing a junction. Niemeyer also received this low-budget commission from members of the French Communist Party, who directed the Seine-St. Denis District Council at that time.
The architect decided to divide the program into two structures. For the offices, usually designed with standardized spaces and bureaucratic partitions, he proposed a concrete and glass layer of 45 by 10 meters, parallel to one of the sides that delimit the block, the western side street to be precise. This volume consists of columns that accommodate a small hall of access aside from four standard floors. The complex rests on two rows of six pillars spaced at intervals of 7.50 meters and 3.75 meters of cantilever at the two ends. On the six supports of the pillars of each one of the longer sides there is a transition beam and small columns spaced at 1.25 meter intervals, which modulate the facade and the office spaces. In this way, in the interior spaces of this volume there are movable partitions that permit flexibility of use.
In the other building, with a sinuous profile, is the auditorium whose interior and exterior offer attractive aesthetic results. The design of the auditorium is developed, in plan, in the form of three circumference arches whose symmetric center is a straight line parallel to the volume of offices. The two volumes, offices and auditorium, are interconnected by a partially buried ground floor with small meeting rooms, restaurant, gallery, reception hall, as well as service areas. This ground floor is at the same level as the interior square, with a solution similar to that used in Le Havre.
For the architect, the project is an example of how "it is possible to build an inexpensive piece, spending less on the main block, and enriching it by contrast with the free-flowing forms of the auditorium". On the occasion of its inauguration, the city mayor, Georges Valbon, defined it thus in his speech: "a simple solution was used for the complex of office; a lyrical solution for the grand auditorium". José Luís Pinho, Jean-Maur Liyonnet and Raúl Pastrana were some of the project collaborators, aside from Jacques Tricot, who calculated the structure... [+]