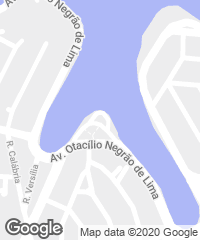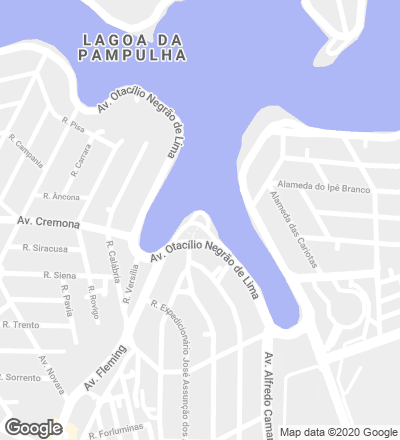 Conceived during the term of the Mayor of Belo Horizonte at the time, Juscelino Kubitschek (JK), the Pampulha complex was finished after nine months of construction works. The politician, after inviting the French urbanist Alfred Agache and being disappointed with his proposal, saw the potential of building a complex of modern forms by an artificial lagoon, creating an expansion area in the capital of the Brazilian state of Minas Gerais. Pampulha prompted an association between JK and Niemeyer, which continued when Kubitschek reached the state government and built other works in Belo Horizonte and Diamantina. Later, when JK was President of Brazil, the pair built Brasília, where Niemeyer designed all the official buildings.
Located to the north of the city, the complex, created only to become a tourist destination and surrounded by a neighborhood of single-family houses, had an unusual program: casino (designed in one night), yacht club, dance hall, hotel and church devoted to St Francis of Assisi.
Created when Niemeyer was only 33 years old, it is the project that essays in the most conclusive manner all the freedom that reinforced concrete allowed. Though the club and the casino still contain Corbusian references, it is in the church and in the dance hall – designed with engineer Joaquim Cardozo – where Niemeyer exercised his formal exuberance. While the building possesses an almost conventional T-shaped floor plan, its vaulted roof gives it a predictable formal tone. The main aisle is a single arch, whereas the sacristy and the altar are covered with a sequence of four arches with different rhythms. Such formal creativity was accompanied by works of Brazilian artists: plastic artist Cândido Portinari (exterior panel of tiles in the arches and altar mural), painter Paulo Werneck (roof mosaic) and sculptor Alfredo Ceschiatti (baptistry bas-reliefs). This cost the chapel a warning from the city diocese, which did not consecrate the temple until decades after completion.
The dance hall, for its part, also has a sinuous roof, a canopy that makes allusion to its use. Shortly after it was transformed into a restaurant and today it is a cultural space. The casino was open until 1946, when gambling was forbidden in Brazil. Ten years afterwards it was co into a museum of contemporary art. The club still has the same use, but with many alterations with respect to the original project. The hotel, fifth building of the complex, was never built... [+]