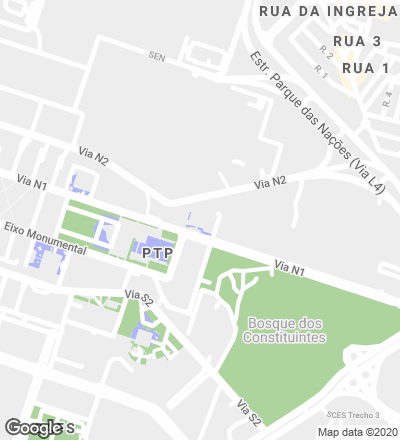 The Planalto Palace (seat of government, where the President of the Republic meets with advisors and visitors) and the seat of the Federal Supreme Court (the highest authority of the judicial power) compose, with the National Congress, the Praça dos Três Poderes (Square of the Three Powers), an idea present in the plan by Lucio Costa that won the competition for the construction of Brasília. These two buildings have the same conceptual origin: horizontal volumes with similar colonnades on the two main facades. As at the Alvorada Palace, the columns of the facade support the roof and the lower slab, which stretches beyond the front plane. This effect gives the impression that the buildings are held by columns, because the boundary of the glass box that touches the ground is set back with respect to the glass box that delimits the other pavements. But unlike the residence of the President, the white marble-clad colonnades of the Planalto Palace and of the Supreme Court are transversal to the volume. The pillars of both have different designs (that of the latter being simpler and more delicate), and they seem to derive from an Alvorada column cut in half.
If in the Supreme Court building the main access, facing the Praça dos Três Poderes, is on the secondary facade, drawing inspiration from Greek temples, in the Planalto Palace the ramp asymmetrically interrupts the rhythm of the columns on one of the main facades. On this same side, facing the square, there is a platform from which the president can address the people, but it has only been used for the transfer of power.
Located south of the square, the Court, of three stories, is lower and of smaller volume than the Palace, sitting north of the square, whose ground floor is partially buried at a lower level to that of the main access. The similarity with the rear part of Alvorada (in the case of Planalto) or with the facade (in the case of the Supreme Court) is in the enclosure, where a sequence of columns supports the building. The facade colonnade supports the roof that shades the glass surface, reducing the entry of sunlight and giving the structures a formal character.
The buildings have large annexes, larger than the main buildings and located in the rear area, with regards to the street. Presently, Niemeyer has been called by the government and works on the project for the remodelation of the Planalto Palace, whose interior space is more interesting and monumental than that of the Supreme Court... [+]