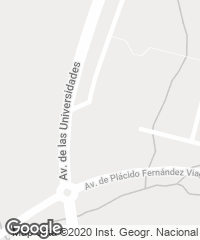 On an elongated plot parallel to the Avenida de las Universidades, in Dos Hermanas, Seville, the new campus is, along with that of Córdoba, the second largest of Loyola University in Seville.
Because of very extreme temperatures in the region, the project pays special attention to controlling sunlight and favoring cross ventilation. Rather than seeing it as a problem, the climate is understood as an opportunity to give the campus a shape and an identity based on local architecture and developed with the most advanced technology.
Taking inspiration from traditional elements of Andalusian architecture like the plazas and courtyards, the campus is a sequence of open and closed spaces within compact volumes, in which the careful study of the pieces in section looks for self-shading and breeze generation. Moreover, and again drawing on tradition, the project introduces textile technnology through the 'sail,' an external and controllable element that enters the building. These 'sails' rest on deep overhangs that keep the facades in the shade.
The project is based on three pillars, two of them programmatic – the idea of community and the need for flexibility –, and one environmental – the integral strategy of sustainability.
On the one hand, the idea of community is impulsed and favored by the architectural scheme, organized in two axes: the north-south longitudinal one (axis of knowledge), with the administration, sports, and educational uses, and the transversal east-west (human axis), housing the library and chapel. The intersection of both axes generates a square that is understood as the heart of the project: a place for meeting and exchange.
On the other hand, the campus is devised as a flexible ensemble, allowing for its future growth: following a concentration strategy, the communal elements are grouped in the building of the first phase, and the classroom building is a module that can be repeated if necessary.
Sustainability measures include an integral design that ties the whole scheme together and unifies it, and in which both passive systems – east-west arrangement of the buildings on the plot and compact typologies – and active systems – installation of photovoltaic panels and the construction of a tank to collect rainwater for maximum energy efficiency and saving – have a key role in the project design...[+]
Cliente Client
Cliente Universidad Loyola
Arquitecto Architect
luis vidal+arquitectos
Colaboradores Collaborators
IASO, S.A. (fachada textil textile facade); Calter, AAS Ermes, Margarida Acústica, CSP, Cerámicas La Paloma
Superficie construida Floor area
29.000 m² (37.683 m² parcela plot)
Fotos Photos
Víctor Sájara