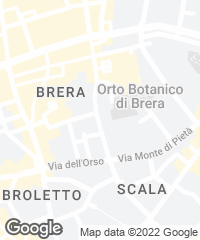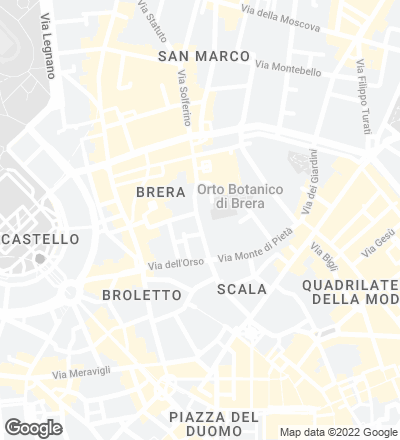 Palazzo Citterio is an 18th-century patrician residence built in Barocchetto style. In the two hundred years of its life it has undergone all kinds of transformations in structure and use. By 1970, when the building became state property, both its interior and its exterior was a mishmash of superposed interventions.
In 1986 Stirling's office was appointed to reorganise the building with views to making it a museum of international stature for the display of 20th-century Italian art, with space for temporary exhibitions as well as for donated collections. Facilities common to modem museums were also required: lecture rooms, a bookshop and a library. The garden was to be restored to serve as a passage between Palazzo Citterio and the old Palazzo Brera.
The idea was to amalgamate the historic remnants of the palace with a series of new pieces inserted at points where the building had already been modified, in such a way as to form a linear route, a promenade architecturale which from the garden on would go about linking the diverse exhibition and other public spaces.
The most important of these added pieces are: a new building to contain the library, archives and cafeteria; a public staircase to lead directly down to the large Changing Exhibition Gallery in the basement; a core of lifts and stairs on the cross-axis of the courtyard; a roof with a glazed cupola over the courtyard, enabling it to be used as main entrance hall from which all parts of the building are accessed; an uncovered garden court bordered by the rear facade of the palace and the archive/library wing; an open-air amphitheatre through which the public can alight to the garden from the basement exhibition.
This project features some functional and formal themes previously put forward by Stirling at the Staatsgalerie and Tate, but here they are purified and subordinated to a complex, comprehensive plan which makes them interact with a new desire for integration, one less literal than during his more contextualist period...[+]
Cliente
Asociación de Amigos de Brera y de los Museos Milaneses.
Arquitectos
James Stirling, Michael Wilford.
Colaboradores
Paul Barke, Russell Bevington, David Jennings, Toby Lewis, Thomas Muirhead, Michael McNamara, Oliver Smith, Philip Smithies.
Consultores
Ove Arup & Partners, Saini & Zambetti, Amman Progetti, David Lang don and Everest.