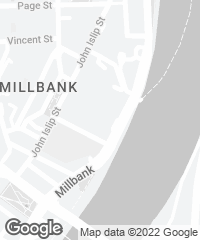 After almost ten years of not building in England, James Stirling finally managed to leave his mark on the British capital, and in no less than one of its most prestigious institutions: the Tate Gallery.
Like many others in the city, this museum had grown in a disorderly way over the years but still had a shortage of space. In its possession, moreover, was a huge collection of works by William Turner, which in accordance with the conditions of the donation were to be displayed together as one whole. And this was the reason behind the project.
The delicate problem of extending old buildings was a controversial issue for the Modem Movement, whose advocates always preferred to raise separate, free-standing structures that would compete with the existing ones under equal conditions. Notwithstanding, some unorthodox solutions like Gunnar Asplund's at the Gotemburg Town Hall led to Robert Venturi proclaiming in the Sixties that extensions should once again attach themselves to historical architecture.
And this is precisely what Stirling did. The Clore Gallery is an L-shaped building that grows organically out of the old museum and even maintains some of its bossage and cornices. Yet its particular set-back position leaves the symmetry of the Tate's classic frontage undisturbed and serves to form an open courtyard that acts as an anteroom to the new wing.
From the entrance lobby at ground level rises a long staircase that leads to the galleries above. The arrangement of these rooms is serene and neutral, with carefully manipulated day lighting.
Outside Stirling tried to engage in dialogue with the neighbors, but without succumbing to mimesis. In the courtyard facades a concrete grid is exposed to view, with panes of yellow stucco and red brick in between. The entrance has a touch of the enlightened, thanks to the stone frontage and doorway crowned by a small semi-circular window. A large comer window reveals the non-structural nature of the walls and serve as a clue to the functional character of the rear facades, where in fact the building looks more like a factory than a museum...[+]
Cliente
Tate Gallery.
Arquitectos
James Stirling, Michael Wilford.
Colaboradores
Russell Bevington, Philip Smithies, Toby Lewis, John Cannon, John Cairns, Robert Dye, Lester Haven, Walter Nageli, Sheila O 'Donnell, Richard Portchmouth, Stephen Wright, Ulrich Schaad, Ulricke Wilke, Graham Jahn.
Consultores
Property Services Agency, Felix J. Samuely & Partners, The Steenson Vanning Mulcahy Partnership, Davis Belfield & Everests, John Taylor & Sons, Walker Beak Mason Partnership, BDP Landscape.
Fotos
Richard Bryant / ARC AID.