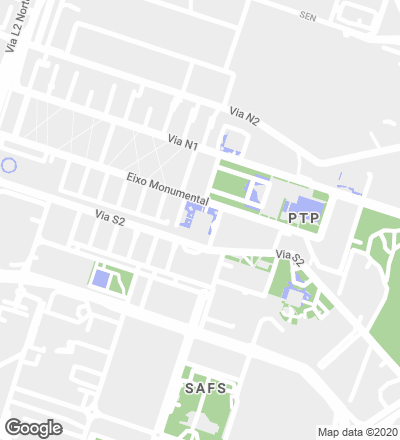 Of the government buildings of Brasília, Itamaraty, seat of the Ministry of Foreign Affairs, is one of the most striking ones. In contrast to the contents of Lucio Costa's master plan, in which all the Ministry buildings were accommodated in the assigned structures, Itamaraty, along with the Ministry of Justice, has a privileged position. Apart from this good location, at the eastern end of the Monumental Axis and close to the Praça dos Três Poderes, they both also have a different character.
Itamaraty is divided into two volumes. The first and most famous one, also called Palácio dos Arcos, is recognizable thanks to the colonnade of exposed concrete surrounding the facades. Such symmetry, according to Niemeyer, was created to show that "it is easy to please everyone with a correct and generous solution, yet simple, offering greater understanding and sensitivity". And he explains himself: "it is like a moment of pause and reflection to make the freer architecture that I prefer better understood". Wrapped by a pool of water with the sculpture Meteoro, by Bruno Giorgi, the colonnade of arches of reinforced concrete with exposed formwork represents the brutalist facet of Niemeyer's oeuvre. This building contains premises for representative functions, like reception halls. The interiors, designed by Milton Ramos, are sumptuous and filled with works of art, highlighting the large, unobstructed interior void and the sculptural staircase presiding the space.
Behind the representative building is the second volume; a taller, longer and more discreet piece that performs as stage of the main building, with a neutral treatment of the facade, protected by wood parasols. Designed simultaneously, it houses the institution's administration areas.
In spite of following the same logic as the other government buildings of Brasília, which all start from a glass box protected by a large roof slab resting on columns, Itamaraty sets itself apart thanks to its squared floor plan. Moreover, the last floor of the representative building is not topped with a solid slab but with a pergola that shades the beautiful garden of the roof, designed by Roberto Burle Marx. The name Itamaraty was inherited from the structure that houses the Ministry of Foreign Affairs in Rio de Janeiro, originally owned by the baron of Itamaraty. Aside from the name, the palace by Niemeyer also inherited the arcades, which had a neoclassical origin in the ancient capital... [+]