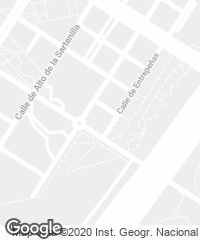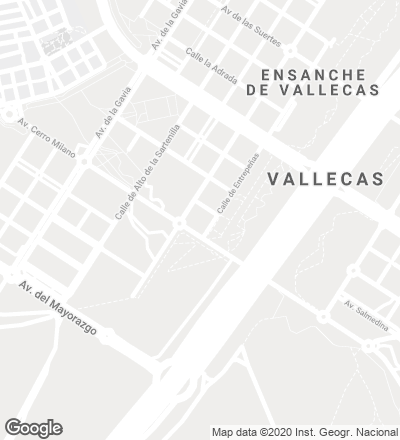 Setting a contrast with the typical design of closed housing blocks found in the Vallecas Ensanche (urban expansion areas), and guided by the unequal conditions of the environment and by the orientation of the plot, the project proposes building two parallel blocks to ensure that all the apartment units enjoy good views and orientation. The two blocks, themselves constituted by another two blocks that are also parallel, are lined up along the ends of the plot creating in the middle a large landscaped space.
Some of the apartments open up to the exterior facades and others overlook the garden. All of them have two facades, guaranteeing in this way cross and natural ventilation in all the rooms. Towards the exterior, the facades are smooth walls of polished concrete, perforated by elongated windows. At the same time, towards the garden the run-through galleries are protected by aluminum louvers that trace a dynamic and changing landscape. The parking area and lumber rooms are below the blocks, despite the difficulty this entails, so that space can be freed up between the housing blocks and tall trees be planted. One of the blocks has a slanted edge because it follows the geometry of the plot as it faces the roundabout; in one of the other blocks, the base of volume is set back to mark the access to the housing complex.
Colored reinforced concrete wraps the building and also takes on a structural role, achieving in this way a monolithic facade, without columns or ledges that may affect the interior distribution of the apartments. This material was chosen because of its capacity to offer thermal inertia and good acoustic insulation. Here the openings are closed with aluminum frames and have sun control devices: sliding frames with orientable aluminum louvers, suspended on the outside by rails anchored to the facade.
The two blocks – formed by two parallel volumes – are lined up with the edges of the plot to create a large garden; as much the apartments that open up to the exterior as those that look onto the garden enjoy cross ventilation.
The facades onto the courtyard, of clad brick masonry, have metallic footbridges at slab level, which support a system of pivoting slats, configuring a light facade whose elements adopt different positions for light and sunning control depending on the needs and desires of the tenants. The louvers, of two-millimeter thick corrugated aluminum sheet, have round perforations of 50 millimeters in diameter on 5.37% of the total surface of the slat, evenly distributed and tracing a checkered pattern.
A series of metallic footbridges support the system of pivoting louvers, of corrugated and perforated sheet of aluminum-magnesium, which configures a light facade able to adapt to sunning needs. 
Cliente Client
Empresa Municipal de la Vivienda y Suelo de Madrid, EMVS
Arquitecto Architect
Guillermo Vázquez Consuegra
Colaboradores Collaborators
Alberto Altini, Laura Moruno, Elías Pérez-Lema, Borja Dorado, Jeff Geisinger, Pedro Hébil, Esther Hodel, Asia Jedrus (proyecto project)
Consultores Consultants
Teresa Galí (paisajismo landscape); Edartec Consultores, S.L (estructura structure); Insur-JG, S.L (instalaciones mechanical engineering); Talleres Vázquez, Estudio Vázquez Consuegra (maquetas models)
Contratista Contractor
Prasi S.A. (2007-2008); OCA Construcciones y Proyectos S.A. (2009-2012)
Superficie construida Floor area
25.552 m²
Presupuesto Budget
17.407.730 euros
Fotos Photos
Duccio Malagamba