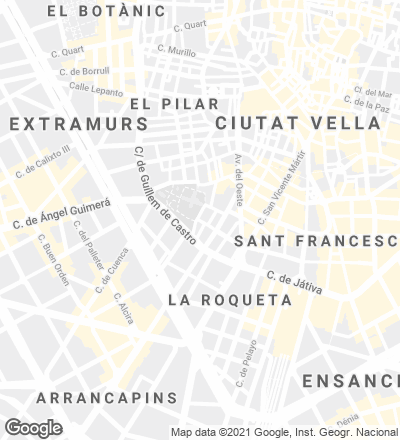 In the Velluters quarter – within what used to be the city walls of Valencia –, the Hospital de los Pobres Inocentes used to take up a triangular block which is now occupied by a public library that has been restored in the former infirmary quarters; one of the most noteworthy examples of Valencian mannerism that has fortunately been saved from demolition. This premise laid out with gardens and scattered by haphazard bits of construction, is shared by the Museum of the Enlightenment, which adheres to the complex perimeter through which regulations intend to bring together the different alignments that converge in this plot. In view of the fragmentary character imposed by the program as well as its urban situation, the museum responds with a singular gesture, framing the east entrance to the park with a passage that traverses its lower floor.

As an aligned extension of the adjacent streets, a passage traverses the lower floor of the museum, transforming it into a gate to the park built over the terrains that were previously occupied by a hospital.
Form and volume are defined by the regulations and the program, gathering the exhibition galleries and the restricted access areas in two linear volumes. Almost parallel to each other, both volumes are linked by a third prism that houses an access foyer opening to the garden. The itinerary constitutes the project's compositional argument within this cluster of functions and spaces. An elevator takes visitors to the third floor, the starting point of the visit to the galleries in a route descending in slight ramps along the largest volume, stringing the collections in scenes with literary, theatrical and musical references to the historical period to which the museum is devoted. The strict geometry of thesmaller volume houses the administration on the ground and first floor and the library on the three upper levels, encircling a zenithally lit void. A ramp connects all floors in this volume, flanking the main foyer to offer an alternative itinerary to that which crosses every hall on the opposite side.

A basement under the building serves to fit out storage room in the exhibition area, and an assembly hall under the foyer, whose anteroom is linked to the entrance floor by a two-story void. The remains of constructions which appeared during the works can be seen from the administration area. The concrete, which shows the formwork's grid and the formties, is chosen here as the only material of an enclosure that blends the fragmentation implicit in the commission into one continuous whole.
The library takes up the last two floors of the volume devoted to the museum's administration and facilities; a double-flight ramp crosses the lower part of this wing and descends from the foyer to the assembly hall.
A staircase provides an alternative itinerary between the different levels of the exhibition building.
Cliente Client
Diputación Valenciana
Arquitectos Architects
Guillermo Vázquez Consuegra, Pedro Díaz, Íñigo Casero
Colaboradores Collaborators
Lola Reyes, Marcos Vázquez Consuegra, Pedro Caro; M. Vázquez Consuegra, J. Estéllez (aparejadores quantity surveyors)
Consultores Consultants
NB-35 (estructura structure); INSUR-JG (instalaciones mechanical engineering)
Contratista Contractor
Dragados y Construcciones
Fotos Photos
Duccio Malagamba