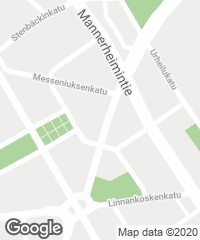 Alvar Aalto still had a foot in the United States in October 1948, when he submitted his entries to the competition for the National Pensions Institute, but his winning first prize the following year in both this competition and that of the university at Otaniemi made him decide against resuming his professorship at MIT after Aino's death. Due to various circunstances work on the project did not actually begin until nearly five years later, yet in spite of the crisis of his personal life he was not at all inactive during this period.
While designing and building the Säynätsalo town hall he embarked on several tours through all of Europe and collaborated in the exhibition on his work that was organized in 1950 in France by André Bloc. Twice invited to Spain in 1951, he availed of the opportunity to travel in North Africa. On returning to Finland in 1952 he married his young assistant Elissa Mákiniemi and initiated a new important phase. It was finally in 1953 that the National Pensions Institute, the hub of Finland's social security system, commissioned him to draw up the final design for its headquarters.
In the 1948 competition Aalto had presented two projects. Both were entitled 'Forum Redivivum', the winning alternate designated by the suffix 'B'. Here the extensive programme was organized around a sort of podium at the service of the city. An outstanding feature of the project were the twelve enormous rooflights illuminating the interview booths of the main hall.
Carried out on a different, considerably smaller site, and with a significantly changed programme, the final version reuses these two principal themes within a revised volumetric composition. The various volumes are placed in step- like fashion around an L-shaped plaza-podium, their heights descending from the northeast corner where the main entrance is situated. Situated toward the interior part of the plaza is a library, a miniature of Viipuri. and at the heart of the complex is the main hall for receiving the public, where the number of rooflights has been reduced to four.
With its four-story height and huge skylights and upper galleries, this latter space is the project's center of attraction. The careful treatment given to every single element coming in contact with citizens reveals the architect's determination to create public spaces at par with his generous conception of the social domain... [+]