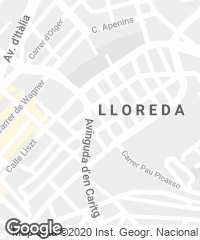 The Germina Foundation is a non-profit institution dedicated to integration and complementary learning experiences for children at risk of social exclusion. Since its creation in the year 2004, the institution has grown and extended its activity, and it now gives daily assistance to two-hundred children, teenagers, and more than one hundred families from its headquarters in Santa Coloma de Gramenet, where it started its activity over fifteen years ago, and now also from Barcelona, where its new center in La Pau-Lloreda has just started running.
The brief for this new headquarters required facilities for three different age groups, common zones, and the Foundation's offices. This 'packaging' of uses was formalized and expressed from the outset in the layout, with two premises on the ground floor and a building in between them.
The center's 726 square meters are distributed among the three spaces: the two premises, located in two existing apartment buildings and the new volume, with a large open courtyard and an exterior public area fit out as a playground for children.
The basis for the project is an empty-solid duality. The empty space is an offset between the units on two levels that creates a sequence of gaps facing both directions (street and courtyard), both outdoor (terraces) and indoor (double spaces), which exhibit the organization of the programme and improve its spatial quality.
The solid provides continuity between the components, an identity for an entity inserted in 'three buildings.' Walking through the two premises and the central building, a furniture-like item bestows order on the chaos of toys and other objects, connecting all the environments by means of a single element that hugs the party walls.
The street facade insinuates its non-residential nature with an unusual two-storey scale – mostly rendered with sprayed mortar – while the courtyard facade opens onto a controlled space that is sheltered by adjustable sunshades.
With an austere exterior and a tight budget, this building seeks a balance between its honest presence in a degraded setting – into which it should integrate and be integrated, instead of standing out pretentiously – and at the same time providing a warm, welcoming atmosphere that the children regard as a second home...[+][+]
Cliente Client
Fundación Germina
Arquitectos Architects
b720 Fermín Vázquez Arquitectos
Colaboradores Collaborators
Fermín Vázquez, Peco Mulet, Elisabet Uson, Luis Bellera, Albert Freixes (equipo team)
Consultores Consultants
BIS Structures (estructura structure); K2 Consulting (instalaciones mechanical engineering)
Superficie construida Floor area
726 m²
Fotos Photos
Marc Goodwin, Rafael Vargas.