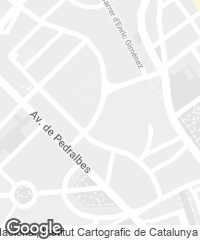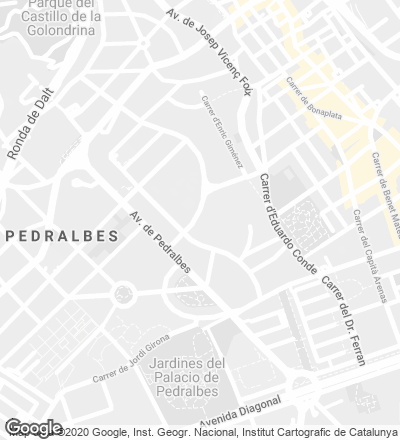 The Lycée Français has two centers in the city: the main campus in Pedralbes and another one for preschool in the Bonanova neighborhood. The renovation of the preschool building – which had undergone several alterations over the years, resulting in the addition of a series of ancillary structures around two villas of the early 20th century – was undertaken in 2013. The decision to replace one of the historical constructions with a new building was made after a careful analysis of the possibilities. A new structure would permit reorganizing the ensemble while contributing to modernizing the institution's image. The proposal maintains the original scheme, organized around a large central playground, but connects the two volumes through a porch that allows indoor communication and provides shelter in case of rain. Moreover, to establish a formal relationship with the existing building, the corners of the school are rounded, evoking the volume of the villas.
The renovation of the Lycée Français preschool building in Barcelona replaces one of the two old villas with a multicolor block that reorganizes the site and contributes to modernizing the institution's image. 
The program is developed in four levels. A semi-basement level that takes advantage of the unevenness between the garden-playground and the street to create an access, partially covered, and an outside waiting area for parents and children, who also have direct access to the garden through stairs and a series of ramps. The classrooms are located in the three upper floors. Each height of the building is intended for a school level, while the roof is fit out as an additional playground. The project locates all the classrooms in the new building, leaving the common uses – such as media library and music room – and the administration areas in the meticulously refurbished villa.
The school's playgrounds are distributed between the top level of the new building and the central garden, a space bound by a covered porch that connects both volumes and whose upper part functions as a terrace. 
The interior spaces are filled with warm materials and different color combinations, a feature that is transferred to the slats around the building, which in some stretches unveil intense shades of yellow, orange, and ocher. 
The image of the facade is given by an envelope of triangular steel slats of different sizes – anchored to the metallic structure with brackets – that run along the whole perimeter and give the school an iconic character. The position, orientation, and separation of these elements has been studied to provide optimum solar protection, improving the building's thermal behavior and reducing energy demand. The facade's interplay of colors and proportions is the result of a fruitful and continuous dialogue with the client, who from the beginning wanted to include color in the project. The pattern designed intersperses profiles in different tones, which protect the glass surfaces in some areas and in others reveal opaque panels in intense yellows, oranges, and ochers.
Cliente Client
AEFE
Arquitectos Architects
b720 Fermín Vázquez Arquitectos
Colaboradores Collaborators
Equipo b720 b720 team: Fermín Vázquez, Peco Mulet, Gemma Ojea, Javier Artieda; Tecnics G3 (dirección de ejecución execution direction)
Consultores Consultants
BIS Structures (estructuras structures); JG Ingenieros (instalaciones mechanical engineering)
Contratista Contractor
CPVSA
Superficie construida Floor area
3.400 m²
Presupuesto Budget
4.200.000 €
Fotos Photos
Simón García