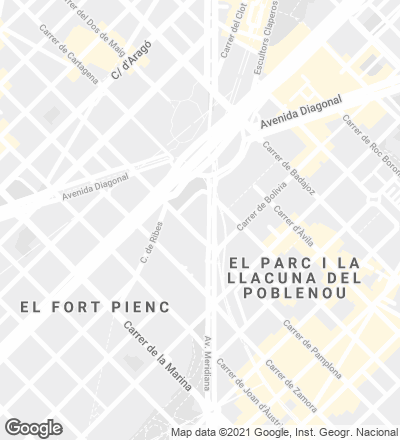 Barcelona's Mercat Fira de Bellcaire, popularly known as Mercat dels Encants Vells, is one of the oldest markets in Europe (some references date its origin back to the 14th century). Though in the past it was organized informally outdoors on the streets, over the last years Els Encants came to gather in 15.000 square meters almost 500 stalls – including antiques, furniture pieces, books, records, electrical material, decoration objects, collector's items, second-hand clothes and much more –, with approximately 100,000 visitors weekly. 
In 2008 the City Council called a European competition for the construction of a new market complex that could become permanent. Close to its former location and to emblematic buildings like the Agbar Tower or the Disseny Hub, the new market is set forth as mediating element between the redevelopment of the Plaça de les Glòries and the Meridiana axis, an area known as the Bosquet de les Glòries.
The project defines a covered and continuous plaza with different levels, protecting all commercial activity from the sun and rain yet still offering users the experience of shopping in a traditional outdoor streetmarket. 
The winning scheme proposed a continuous multi-level platform or commercial plaza, understanding the market as a large square deck capable of instilling activity in all the different parts of the program. The main objective of the project is to maintain the open, streetlike character of the traditional market.
Departing from the typical shopping center structure organized in several floors, the design proposes a continuous retail space with slightly elevated surfaces, interweaved in a loop that generates a seamless route between the stalls and small shops, somewhat evoking the experience of shopping on a pedestrian street. By bending the platform, the different levels of the perimeter streets are reconciled, furthermore blurring the access levels throughout the interior spaces of the market.
The colossal roof, a canopy raised almost 25 meters high, transforms the market into a readily recognizable urban component while protecting commercial activities from the sun and rain. Designed to appear lightweight and to maximize daylighting on all levels, the canopy is constructed with bands of different width, and its underside, of stainless steel, generates a ceiling with several shifting planes that reflect the city, inviting it into the market. The building has two levels below grade. The first one fulfills the market's logistic requirements and the second one is a public parking.
Cliente Client
Barcelona d'Infraestructures Municipals (BIMSA), Ayuntamiento de Barcelona
Arquitectos Architects
b720 Fermín Vázquez Arquitectos:
Fermín Vázquez, Francesc de Fuentes, Cristina Algas, Sonia Cruz, Guillermo Weiskal, Pablo Garrido, Albert Freixes, Gemma Ojea, Javier Artieda, Angel Gaspar, Oriol Roig, Juan Pablo Porta, Leonardo Novelo
Colaboradores Collaborators
Jorge Mascaray, Francisco Marques, Helia Pires, Elies Porta, Tosca Salinas, Myriam Gonzalez, Nastascha Gergoff, Egbert Oosterhoff, Leopold Bianchini
Consultores Consultants
BOMA (estructura structure); Grupo JG (instalaciones mechanical engineering)
Superficie Floor area
35.440 m²
Presupuesto Budget
50.000.000 euros
Fotos Photos
Duccio Malagamba