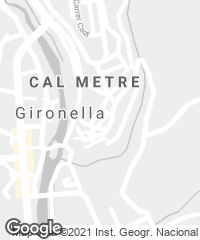 The old church of Santa Eulàlia in Gironella was built in the mid-14th century and since then it has been repurposed several times. In 1907 the building acquired a civil use and suffered a series of alterations derived from its different activities – housing, carpentry shop, noodle factory, and a bar. In 1971 the town council recovered it in a poor state of conservation.
In 1984, urgent repair work started on the roof, and its refurbishment began in 1986, with a project of Víctor Argentí to convert it into a multipurpose hall. In this last intervention the compartmentalization added over the years was demolished, including the apse. The addition of a new historical strata was planned, and the old facade onto Olvan street was replaced with a translucid glass enclosure and a wood structure was introduced as shelf for archiving.
In 2016, the poor state the building was in, combined with its lack of services and MEP installations, made it necessary to reformulate the space altogether in turning it into a venue for cultural activities related to the performing arts, especially dance, music, and poetry reading. The project highlighted the strengths of each previous intervention, understanding the sequence of different historical layers.
The refurbishment focused on three strategies. First, enlarging the building's usable space by retrieving the church's main nave, in the process incorporating a central pavement of birchwood to insulate the floor well, and along the perimeter, adapted to the stone walls, a continuous pavement of self-leveling mortar. The shelves are removed and the closed chapels are reserved for storage.
Second, introducing a cluster of services in one of the chapels for accessibility, conceived as a pinewood box with an enclosure that conceals the door – and including a new heating system, designed to push warm air off the floor.
Thirdly, creating a visual connection with the surroundings through facades composed of vertical modules of transparent glass that bring in daylight, incorporates the street as a second facade and allows contemplating the church from the exterior. Vertical structures are reinforced and added to create a rhythm and a modulation of smaller glass surfaces, easier to replace. An interior curtain controls lighting and improves acoustics and insulation depending on the event. The permeability of the enclosure streets the public character of Santa Eulàlia as extension of the urban landscape.
Cliente Client
Ayuntamiento de Gironella; Servei de Patrimoni Arquitectònic Local (Diputació de Barcelona)
Arquitectos Architects
Carles Enrich Studio
Consultores Consultants
BBG (cálculo estructuras structure calculation); SJ12 enginyers (instalaciones mechanical engineering); Brufau Cusó (control de calidad quality control)
Contratista Contractor
Vesta
Superficie Floor area
210m²
Fotos Photos
Adrià Goula