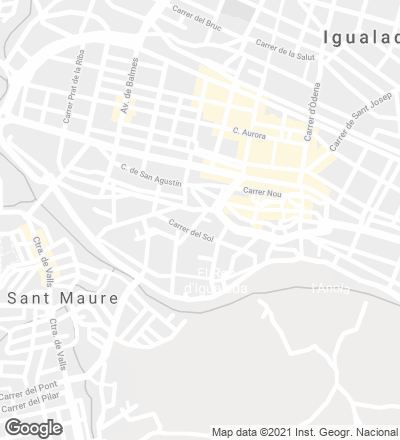 The project involved renovating two constructions raised late in the 19th century in the Rec neighborhood of Igualada, near Barcelona, that contained a small textile factory and a residence. The area, once industrial, is undergoing an urban transformation process and becoming a creativity hub open to artists and cultural and culinary events. 
The first step was to strip the building of slabs, courtyards, walls, and pillars, to then reinforce, recycle, and upgrade the architecture. A double-height space was created at ground level, with a mezzanine library and a large open fireplace. On the first floor, reserved for the children's bedrooms, an intermediate space was built around the remains of the old courtyard. Finally, the top story features a spacious room whose floor reuses wood from the beams of the demolished levels. Similar spatial strategies and material austerity criteria were applied in the adjacent two-floor building, which is to harbor a small business, with office spaces laid out both downstairs and upstairs. Outside, the facade exposes the different materials and phases of the building's life, incorporating a mural by the artist Btoy to emphasize the neighborhood's cultural character.

Obra Work
Casa Rec, Igualada (Barcelona) Rec House, Igualada (Barcelona).
Arquitectos Architects
Guallart Architects / Vicente Guallart (socio partner); Elisabet Fabrega, Honorata Grzesikowska, Firas Safieddine (equipo team).
Consultores Consultants
Ionut Cosenco (estructura structure); Jaume Ardeiru (rehabilitación restoration work); Maria Diaz (desarrollo development).
Contratista Contractor
Conselart.
Superficie Area
540 m².
Fotos Photos
Adrià Goula.