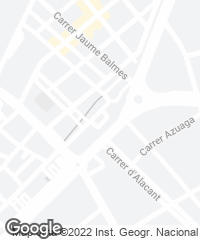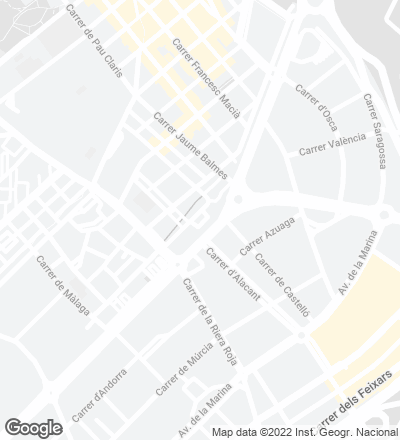 The program – which combines subsidized and free-market housing – practically requires filling the available volume. This limitation, along with the demands of efficiency and simplicity, represents a challenge for the development of a project with some added value.
The starting point is laying out a standard floor of 12 homes. It was necessary to sacrifice the minimum surface area in communications, so a single central core is inserted, equipped with two interlocking scissor-type staircases, two lifts, and two installation cores. There is therefore a single public entrance and a single centralization of connections on the ground floor that will affect the cleanliness of the commercial space and the underground parking.
The apartments are laid out in such a way that all the living rooms and bedrooms face the exterior while entrances, kitchens, and bathrooms are placed along the corridors shared by the groupings of three dwellings. All the units have a high level of accessibility, and 3% of them are totally adapted. From this scheme that solidifies the available volume, subtraction operations are carried out that allow a new morphology to be sculpted. Generous terraces, collective and individual alike, make the complex lighter, less dense, while creating the conditions for cross ventilation and diagonal views.
The exterior facades are repetitive and sealed with an external ventilated industrial panel sheet, seeking an unequivocal and monumental image of the volume, surrounded by public space. The facades of the courtyards and corridors have a quasi-picturesque nature with latticework, tiling, and ceramic tile flooring with a long tradition in Catalonia.
As for energy efficiency, the design tests a passive sustainability model based on architectural design, both spatial and material, that aims to save both on energy used and energy demanded, as well as to reduce the carbon footprint of the materials from their source to site and future use. Resources such as cross ventilation using the differences in temperature between the exterior facades and the courtyard, and the availability of natural light on both facades guarantee comfort and energy saving. These measures rest on cutting edge technology such as well-calibrated installation networks throughout the building, aerothermal energy systems, low-temperature radiators, and photovoltaic panels that cover the lighting needs in all communal spaces. For all this the building has obtained an A-energy rating.
Cliente Client
AMB. IMPSOL
Arquitectos Architects
estudioHerreros: Juan Herreros & Jens Richter
MIM-A: Mariona Benedito & Martí Sanz
Colaboradores Collaborators
Abraham Piñate (responsable del proyecto architect of the project); Martha Sosa Días, Verónica Meléndez, Paola Simone, Carmen Antón, Filippo Sapienza, Xavier Isart, Clara Vidal, Ignasi Agustí, Ignasi Navàs (equipo de proyecto project team)
Consultores Consultants
Manuel Arguijo (estructura structure); PGI (instalaciones mechanical engineering); Eulalia Arán (aparejadora quantity surveyor)
Superficie Floor area
12.500 m²
Fotos Photos
José Hevia